Universities and trusts offered funding for 1,500 clinical placements to help expand training places this year
HEE hopes places will be offered through clearing for courses starting next month
Extra money is part of government plan to expand university training places by 10,000 by 2020
Universities and NHS trusts are being offered tens of thousands of pounds by Health Education England in a push to expand training places for nurses and other health professionals this year.
HEE has said it will immediately make available funding for 1,500 extra clinical placements – almost a 5 per cent increase – after the Department of Health announced a £16.4m funding boost last week.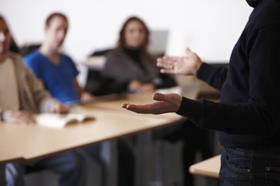 In a letter to universities yesterday, HEE said it was making the money available now for universities to offer extra places through the clearing process, which starts in England today, for courses that start next month or in early 2018.
Funding for 2,500 additional clinical placements will be made available in 2018-19.
HEE said funding for placements would be attached to the students for the duration of their courses but that universities would need to apply again next year for money to fund new students.
Universities had the option to decline the offer of extra placements this year with any declined allocations being reallocated to courses starting next month and specifically targeted at professions listed on the Home Office "shortage occupation list", which includes nursing and paramedics.
A spokesman for the Council of Deans of Health said it welcomed the funding and clarity over the new placements but warned the take up by universities at such short notice was likely to be variable across the country. He added that the ability and capacity of the NHS to take on 10,000 extra trainees needed to be explored in detail.
The average cost of a funding placement is £1,500 meaning this year's funding is equivalent to £2.25m.
Earlier this month, the DH confirmed it would make an extra £16.4m available to HEE so that it could meet the government's target of 10,000 extra nursing, midwifery and allied health professionals by 2020. This follows the government's announcement in 2015 to scrap the NHS bursary in favour of a student loan system, to remove what it called an "artificial cap" on places.
The letter, seen by HSJ, said: "Health Education England and the Department of Health have sought to design a solution to pragmatically allocate these additional clinical placements quickly, fairly and transparently to support higher education institutions in offering additional places for entry on to courses starting from 1 August 2017, principally through clearing (commencing 17 August) and on courses starting in early 2018.
"HEE can confirm that funding will be made available for up to 1,500 additional clinical placements in England.
"All HEIs running clinical undergraduate pre-registration courses which previously attracted bursary funding and which have demonstrated compliance with HEE's quality framework are eligible to have a 4.6 per cent uplift in the number of HEE funded clinical placements associated with those courses. These funded clinical placements may be associated with any nursing, midwifery or allied health professional pre-registration undergraduate course the HEI is running – subject to suitable placements being available."
Universities will need to reach agreements with local trusts to provide the clinical placements for any extra students. Trusts will need to be able to provide appropriate mentoring and training for students.
NHS bursary reform fails to increase student nurses
1

2

Currently reading

Government releases cash in last minute push to expand NHS training