Several areas of England struggling with doctor shortages are hoping to get a boost from five new medical schools, which have been announced today.
They are part of a significant expansion in government funded undergraduate places for medicine, which will increase by 630 this year and by 1,500 by 2020.
The new schools will be in:
Sunderland, run by Sunderland University with 100 places, starting with 50 students in 2019.
Canterbury and Medway, run jointly by the Kent University and Canterbury Christ Church University, starting in 2020 with 100 students.
Lincoln, run by Lincoln University in partnership with the University of Nottingham, with 80 places from 2019.
Chelmsford, run by Anglia Ruskin University, with 100 places from this year.
Lancashire, run by Edge Hill University, with 30 places from 2020.
Existing medical schools will also be allowed to expand – including the recently established one at Aston University, which only begins this year when it is due to take 60 students, and is part of a programme to take local students. Aston will take an additional 100 students a year, 20 from 2018 and the rest from 2019.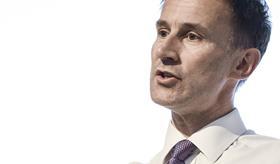 Ninety per cent of the new places are outside London with many universities expanding their intake in 2018 and 2019. However, the expansion will not have any impact on the medical workforce until at least 2023 when the first students will graduate.
Health and social care secretary Jeremy Hunt described the new medical schools as "part of the biggest ever expansion of our medical and nursing workforce".
He said: "These schools are being set up in parts of the country where it can be hard to recruit and attract new doctors – but will benefit doctors everywhere as we start to eliminate the rota gaps that add so much pressure to their work."
Both the new schools and the expansion of existing schools are aimed at areas which have demonstrated a commitment to sending more trainees to rural and coastal areas and increasing the numbers of GPs and mental health specialists – as well as widening participation in medicine.
Trusts are hoping the presence of a medical school will help attract consultants, who will have more opportunity to become involved in teaching, and ultimately see students working in their areas.
United Lincolnshire Hospitals Trust chief executive Jan Sobieraj said: "We are delighted a Lincolnshire medical school has been announced. This is fantastic news for the University of Lincoln, the NHS and our patients.
"I'd like to say well done to the universities for all their hard work in making this happen. Lincolnshire has a severe shortage of doctors in a range of specialities, and ULHT is greatly affected by this. We believe a local medical school will help us in the longer-term with recruiting doctors and keeping them in the county, as people tend to stay in the areas where they train."
Diana Hamilton-Fairley, medical director of Medway Foundation Trust, said: "In the long term, it will be fantastic for recruitment but it will also give a confidence to the existing medical staff to continue to carry out research." Medway has a very active research unit which will be encouraged by this, she added.
She said with two of the largest deprived areas in south east England in Kent and Medway – the Thanet coast and Medway Towns – the focus must be on how to deliver healthcare across isolated and deprived communities in a more holistic way.
"A medical school lifts the whole place, Doctors have to stay up-to-date in order to teach – doctors love teaching and being with young people and being challenged", she said.
Glenn Douglas, lead of the Kent and Medway sustainability and transformation partnership, said: "We are delighted with this announcement. We have been clear that Kent and Medway have a big problem staffing NHS posts, and this is causing significant strain on health services. We have been fully in support of the bid from our two universities for a medical school. Having a medical school locally is known to provide an essential boost to recruitment and retention and we know this is vital, particularly in our coastal areas. We want people in Kent and Medway to seriously consider health and care as a career, and the universities will now be offering an extensive range of courses – including medicine – within our region."