HEE chief executive said retention was the key factor to improving NHS workforce supply
Professor Ian Cumming revealed ambition for UK to be self-sufficient across healthcare professions
Flexible working, fall in the pound and EU referendum all factors in losing staff
Health Education England's chief executive has said he wants to ensure the UK is self-sufficient for nurses and is aiming for a small surplus across all healthcare professions.
In an interview with HSJ, Professor Ian Cumming said a key focus for the education and training body would be improving the retention of staff in partnership with the wider NHS.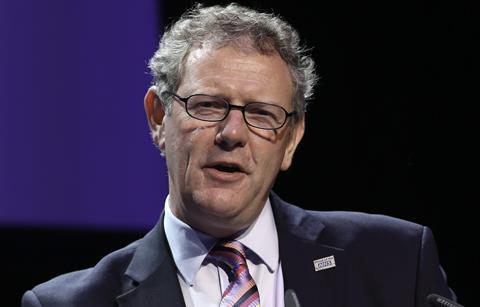 He said stemming the growing number of healthcare professionals choosing to leave the NHS was the key to ensuring it had enough staff.
"If we can take retention of our nursing workforce back to what we were achieving in 2012, the vacancy level goes down to 9,000, which is roughly 3 per cent. That is normal turnover.
"Eighty-seven thousand people in this coming period of four years will leave the NHS; 84,000, not necessarily the same people, will come back. What we're saying is even if we can improve that by 10,000 it makes an enormous difference because by 2021 it means we won't have any vacancies."
"We have got to get the pipeline coming through but if you don't focus on the current staff you've got 15 years before new people are in the majority."
Professor Cumming, who joined Health Education England when it was created in 2013, revealed his ambition for the UK to be self-sufficient within the next four to five years.
He said: "We should never be aiming for a shortage of anything. I think in the past we, the system, have aimed to produce the number that we need and we have always fallen short so why don't we aim to produce a few more? Our desire is to see a small surplus of supply in every clinical workforce group.
"As the fifth or sixth largest economy in the world we have to be aiming for self-sufficiency in all our healthcare professions. We shouldn't be relying on other countries to produce our future workforce. Let's get to self-sufficiency but not turn off opportunities that we have got to train people from around the world."
Professor Cumming said "the potential was there" for nursing to be self-sufficient in future with increased training numbers and new routes into the profession.
"I can easily see 4,000 or 5,000 people going through a nurse associate training course. We also have the nurse apprenticeship route, which has 1,000 starting this September. We have some large numbers coming, as well as the cohort going through university," he said.
HEE was "right at the bottom" of its predicted supply of nursing staff to the NHS, he continued. Professor Cumming said: "It's not production of new staff [that is the problem], they have come off the pipeline exactly as we anticipated. It is around what has happened to the people we have already got, more people at the higher end of expectations have left and we have seen an increase in part-time working. Those are the two main factors driving this.
"There is no point in just using the training pathway as the solution if we are then losing people from the service or they are not choosing to work full-time in the NHS."
Asked whether the policy to scrap the nursing bursary had led to an increase in places, Professor Cumming said: "We don't know is the honest answer and I won't be able to tell you until October. There are direct applications made to universities and universities will set their own cut off dates.
"We won't know until we get past clearing and the numbers are released. As we understand it, on aggregate across the country more people have applied for nurse training than there are places available, but we need to be cautious about that. We are expecting some individual peaks and troughs."
Asked whether he believed pay restraint should be abandoned to improve retention, he said it was not for him to comment on pay, which is a government policy. He added: "How much people get paid clearly is a factor. The people I have spoken to who have returned to practice said their number one issue wasn't pay but flexibility to fit their work around their family and other commitments.
"Some organisations are giving their staff a huge amount of flexibility over self-rostering while other organisations are still being very command and control."
On Brexit, Professor Cumming said he believed the impact would be felt more in less well paid staff groups. Some EU staff have been affected by the fall in the value of the pound as they send money home or save it for returning to their country of origin.
He added: "I am sure, absolutely certain, that we are losing nurses from this country, for various reasons, of which Brexit is one of them. Brexit is a factor we are including in our assumptions. What we want to do is look after all our workforce wherever they come from. Retention doesn't just apply to UK nationals but everyone currently working in the NHS."