Jeremy Hunt says government will not reduce pay bill for NHS staff
Government wants "more professional pay structure" for Agenda for Change
Junior doctors' contract could be a model for talks between unions and NHS Employers
More than 1 million NHS staff could have their basic pay increased but have weekend and nightshift pay cut as part of Agenda for Change reforms.
Health secretary Jeremy Hunt told HSJ the government was not aiming to reduce the amount of money paid to NHS staff and said reforming the Agenda for Change contract was not aimed at saving money.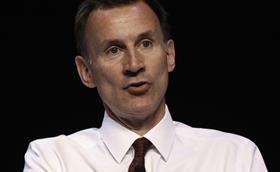 Mr Hunt said he wanted to achieve a "more professional pay structure" in line with government policy on public sector pay generally.
This is likely to include reform of the increment pay structure within Agenda for Change as well as enhancements for the time staff spend working at premium time such as weekends and nightshifts.
Mr Hunt said the contract agreed with junior doctors after last year's bitter pay dispute "was sensible" and hinted it could be a model for the new Agenda for Change contract – with staff who work more weekends getting higher pay.
Out of hours enhancements can substantially increase a worker's salary with nurses working on a Sunday getting as much as a 60 per cent uplift in basic pay, while a nightshift can have a 30 per cent premium. For the lowest paid staff, these rates can be even higher at double time on Sundays and 50 per cent premiums on a weekday nightshift.
The health secretary said: "Across the public sector we have been wanting to move towards more professional pay structures. I think the biggest area that we have wanted to reform for a long time is the system of increments – in particular, payments that simply relate to time served rather than any measurable increase in professional abilities.
"We have no desire to reduce the total amount paid to the NHS workforce by any such reforms. This isn't a money saving thing but about moving to modern professional pay structures.
"We are still going to have premiums for antisocial hour payments. Funnily enough, the model that we ended up agreeing with the British Medical Association for the junior doctors' contract is quite a sensible one, which is essentially higher pay for the more weekends you work. We recognise that."
He added: "I think, to their credit, most unions are very open to these discussions. We are having very productive discussions with Agenda for Change unions and very good discussions with the BMA consultants committee so hopefully those will continue."
Last week, chancellor Philip Hammond said the Treasury will find new money to fund pay rises for Agenda for Change staff but only if a final deal can be reached.
Earlier this month, HSJ revealed unions had agreed "broad principles" with NHS Employers over reforms to increments but the subject of out of hours payments and other enhancements could be controversial.
Exclusive: Internal market and FT 'islands' hamper safe care, says Hunt
1

2

Currently reading

Health secretary reveals ambitions for pay reform

3

4