Health secretary says he expects the number of permanently employed NHS nurses to increase
Says NHS has overused agency and locum staff
Tells trusts to look beyond "binary choice" between savings and quality
Health secretary Jeremy Hunt expects the numbers of qualified nurses in permanent NHS employment to continue rising, in spite of its severe financial pressures, he has told HSJ.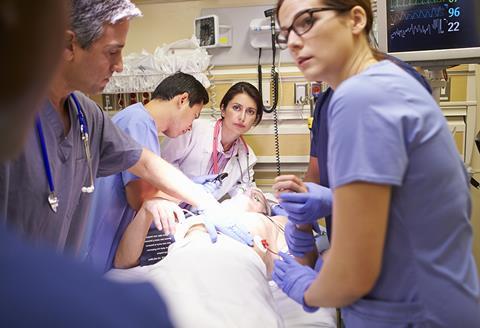 Mr Hunt said the numbers of substantively employed nurses should rise, as NHS providers reduce their use of more expensive agency and locum staff.
It comes against a background of NHS providers needing to make huge efficiencies, and some trusts having been asked in the summer to justify growth in their clinical staffing pay bill.
Mr Hunt said that overall, during his time at Richmond House, there had been an increase of around 10,000 whole-time equivalent nurses in the English NHS.
He said that, in response to the Mid Staffordshire care scandal and the subsequent report of the Francis inquiry, the NHS "had over recruited from agencies and that has caused enormous pressure on finances".
He said: "They have done it for exactly the right reasons. They're absolutely determined to make sure they have enough manpower, but the reality is an agency solution is not a sustainable solution in the long run, it's not a sustainable solution financially or in relation to quality care.
"We are now bringing that number down and we are proud of the work [NHS Improvement] has done. We think we might be able to reduce the total NHS agency bill by about £1bn this year compared to last year, which would be an incredible achievement in one year, and do that without impacting on patient care."
Mr Hunt said, at the same time, he would expect to see an increase in substantive nursing staff. He said: "There will be some replacement, it won't necessarily be one on one replacement, but I would expect as agency nurse numbers come down you would see some increase in substantive staff, yes."
Asked about the trade-off for trust chief executives between investing in clinical staff and balancing their books, he said trusts needed to look beyond that "binary choice".
In an extensive interview he told HSJ: "If they are asking that question it shows that they haven't understood the way to tackle this challenge and I would say to those boards, 'Look at the trusts delivering the highest standards of care, they are also the ones with the lowest deficits or in surplus.'"
Mr Hunt pointed to improved use of electronic rostering systems as a means of reducing agency staffing and saving money.
"The biggest example of something we get wrong, which in fairness was brought to my attention by the junior doctors dispute, was the inflexibility of rostering and the lack of proper e-rostering systems in the NHS which drive a lot of people to become agency workers because some people do need to have flexibility if they have families," he said. "We need to be offering that in the standard NHS contract."
Mr Hunt said the Care Quality Commission was an essential "lock in the system" to prevent trusts making savings at the expense of patient care.
He said he was confident the CQC would use its powers where necessary. "The CQC do show a lot of teeth, you just don't see them publicly," he said. Its failure so far to use its full powers to prosecute NHS trusts was "not necessarily a bad thing".
He said he believed the CQC was improving standards in a similar way to Ofsted, which he said has no intervention powers over schools, but by publishing judgements.
"The purpose of having the [CQC's] four point ranking is to create a learning culture," he said. "For me the more we can achieve change by people trying to move themselves up the CQC's four point scale and the less we can achieve it by prosecuting people or heavy handed regulation the better."
Hunt: I want to be health secretary until 2019
1

2

3

Currently reading

Health secretary: Trusts told to employ more full-time nurses

4

5

6

7