Review of annual junior doctor appraisal process finds widespread inconsistency
System pressures lead to variation in quality of training and educational outcomes
HEE medical director says new approach will "recognise the professional"
Health Education England is planning to reform the way junior doctor training is assessed to tackle widespread inconsistency, bureaucracy and a "sheep dip approach" to training.
The national education and training body, which spends £3bn a year training junior doctors, has assessed the annual review of competency progression process that all junior doctors must pass to move on in their training.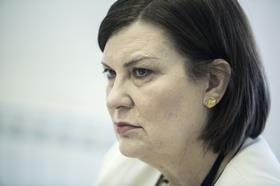 The review, prompted by complaints made during the junior doctors' contract dispute, found the "quality and availability of educational supervision is not consistent, partly because of system constraints and service pressures, resulting in variation in quality assurance, professional development, trainee motivation and support, and ultimately some educational outcomes".
It also found "a degree of inconsistency" in how educational supervisors, who are usually consultants, are appointed, trained and appraised by their NHS trusts. HEE said this was "a significant contributing factor to the trainees' varied experiences".
The review added: "We heard anecdotes from supervisors who felt that the role of educational supervisor was often bestowed upon the newest consultant within a department, regardless of whether they had expressed a strong interest in education or not. At times, this was compounded by supervisors receiving inadequate training about both the ARCP process and how to provide effective supervision to offer trainees necessary support."
Wendy Reid, medical director for HEE, told HSJ she wanted to work with royal colleges to make the process better for all involved.
She said: "Junior doctors are not homogenous and I want to get away from this sheep dip approach, which is not working. One of the conversations we have had with the Academy of Medical Royal Colleges [has been about] what does the written curricula actually mean in words that would be meaningful to the public and the employer and trainee.
"The challenge is that we train doctors across the country and the training experiences are different depending on where you work. We do actually value that. That is the joy of NHS training – it isn't in a classroom, it is at the bedside.
"We don't want to get rid of some of the richness of training by saying we want to coalesce to the mean. What we want to do is reduce the bureaucracy and make it more efficient and create genuine flexibility to give junior doctors back some of the autonomy that a tick box approach removes.
"The boxes that are ticked are defined by the royal colleges. We all recognise they have got to be meaningful but what I want is to minimise the unnecessary boxes that have to be ticked."
Dr Reid said she would work with the colleges to ensure the assessments that junior doctors go through are meaningful and value the individual.
She said: "We don't want to undermine the good bits of training but I need to be assured the process is fair and standardised. Variation needs to be explicit for trainers and trainees alike.
"I want people to recognise the human element. The tick box, conveyor belt language implies a process, not the people, and we value doctors because of their humanity as well as their skills and their knowledge. If we continue the collaboration that has gone into this review, we will be able to recognise the professional in the middle of all of this."
The review found there was "significant variation" in the way ARCP panels conduct their annual assessments. Some panels insist on junior doctors attending and others do not. Often this varies between specialties and regions.
HEE wants all panels to make their decisions without requiring junior doctors to appear "to improve the validity of outcomes" and will produce national guidance so there is consistent quality across specialties.
Royal colleges are due to update their curriculums by 2020 and HEE, which does not set the detailed curriculums itself, will work with the colleges to ensure training requirements meet its new ambitions.
It has also suggested a form of the ARCP process could be developed for specialty and associate specialist grade and non-training doctors, as well as for other staff working at a similar level to junior doctors such as advanced care practitioners, though this is not a formal proposal.