Chris Hopson says NHS trust managers' jobs are at risk for missing "impossible" targets
Calls for recognition from system and political leaders that the NHS is in the "red zone"
Tough conversations needed about what performance can be delivered within funding and staff constraints
NHS leaders are being held to "unjust and unfair" standards by the centre, with careers put at risk over "impossible" performance targets, NHS Providers chief executive Chris Hopson has said.
Speaking ahead of the organisation's conference, which starts tomorrow, Mr Hopson told HSJ there was an unprecedented gulf between the expectations of system and political leaders, and the reality faced by trust managers.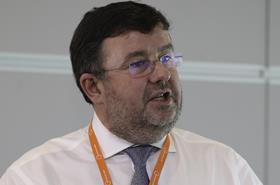 Without significant additional funding, the current performance targets were unachievable, and left leaders "stuck in an endless cycle of not being able to succeed".
National leaders needed to acknowledge that the NHS was deep in the "red zone" in a way that was not sustainable, Mr Hopson said.
"We would like to see a degree of recognition and honesty from political leaders, from Jeremy Hunt and Simon Stevens," he added.
He said local and national leaders needed to have honest conversations about what was a "deliverable plan" under the current funding and workforce constraints, which could include relaxing some performance targets.
He would not say which targets could be shifted, saying this need to be agreed between providers and the centre – "but we simply haven't got the money and the staff to deliver these standards consistently".
Mr Hopson said the troubling gap between providers and the centre was illustrated in September's nationally convened meeting about improving emergency performance, reported by HSJ, in which some local leaders were made to chant "we can do this".
"If people really think the failure to miss these targets is due to providers not trying hard enough then we are in danger of losing the plot," he said.
He would not comment directly on the two acute trust chief executives that resigned in September under pressure from the centre over their trusts' emergency performance.
However, Mr Hopson said in the current environment, high performing chief executives felt their jobs were significantly more at risk, based on targets almost nobody was achieving.
He said: "People's careers are being put in jeopardy because they are failing to deliver impossible targets."
The increasing regulatory burden, particularly coming into winter, was counterproductive, diverting leadership attention from frontline delivery and transformation of services, he said.
Instead, regulators should reduce the volume of reporting requirements and focus on "supporting" trusts.
"Instead of pointing the finger and saying 'you're not trying hard enough', they should be saying 'how do we give support?'" Mr Hopson said.
However, Mr Hopson was cautious about moves towards greater integration of NHS England and NHS Improvement as a solution to reducing the regulatory burden.
With NHS England and the Department of Health focused on monitoring rather supporting trusts, such a move could risk the loss of NHSI's relative "realism, experience and honesty", he said.
His comments come amid growing concern about the state of the NHS's finances, workforce and ability to deliver against performance targets. These have increased after predictions of a harsh winter, following a severe flu season in Australia and New Zealand.
They also come ahead of budget on 22 November, in which NHS leaders will be seeking additional funding from the Treasury.
Hopson: NHS leaders' careers at risk over 'impossible targets'
1

Currently reading

Hopson: NHS leaders' careers at risk over 'impossible targets'

2