Four clinical commissioning groups are among the top 10 Best Places to Work in healthcare, in a list published by HSJ today
HSJ's Best Places to Work, in association with NHS Employers, is a celebration of the 100 best employers in the NHS.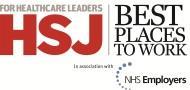 To compile the list, Best Companies Group used NHS staff survey findings to analyse each organisation across seven core areas: leadership and planning; corporate culture and comnunications; role satisfaction; work environment; relationship with supervisor; training and development; and employee engagement and satisfaction.
Each organisation was also invited to complete an employer questionnaire. These were not used in the final ranking but helped HSJ to create its organisational profiles.
The organisations in the top 100 appear unranked but, but the overall top 10 employers are highlighted.
The final list included 49 acute trusts, 11 community trusts, 25 mental health trusts and 15 clinical commissioning groups.
NHS Employers director of employment relations and reward Gill Bellord said: "Initiatives such as Best Places to Work provide leaders with information they can use to identify where improvement need to be made."
Discuss it using the hashtag #HSJBestPlaces.