Largest falls in year on year applications in key specialties such as acute medicine, paediatrics and anaesthetics
HEE says recruitment will continue for some months before final position is clear
Data comes as junior doctors launch latest 48 hour non-emergency strike over contract dispute
Hundreds of junior doctors have not applied to continue their NHS training in key hospital based specialties, according to data from Health Education England.
The largest falls came in acute medicine, paediatrics, anaesthetics and emergency medicine – where 230 fewer doctors applied for training than in 2015. HEE said it will continue to recruit doctors and the final figures will not be known for some months.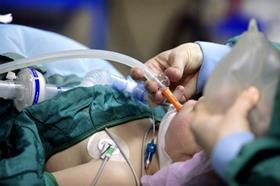 The data emerges on the same day as junior doctors begin another 48 hour strike. NHS England said a total of 24,500 operations had been cancelled since the dispute with the government began.
The fall in trainees for key specialties will add to concerns that the NHS is struggling to fully staff medical rotas in key areas.
According to the latest specialty recruitment data, the overall numbers of junior doctors accepted on CT1/ST1 specialties after their initial two year foundation years fell by 3 per cent in 2016 compared to a year earlier – a drop of 89 medics.
HEE said it had published the data, for the first time, to allow junior doctors to see where there was potential for them to apply for training in the second round of recruitment.
Acute medicine and core medical training saw 108 fewer doctors apply for training in 2016 compared with 2015, a drop of 9 per cent. Overall the specialty achieved a fill rate of 78 per cent with 1,036 doctors accepted to continue working in the NHS.
In paediatrics, numbers dropped by 12 per cent or 43 fewer doctors with an overall fill rate of 84 per cent.
Anaesthetics also saw a drop of 60 doctors applying for training, a drop of six per cent an overall fill rate 94 per cent.
In emergency medicine numbers dropped by 27 doctors, or 3 per cent, with an overall fill rate of 96 per cent, or 298 doctors. This is a significant improvement on previous years where numbers were at 225 before HEE invested £50m in a three year plan to boost numbers by 75 each year.
The single biggest winner appears to be general practice, which saw an extra 152 doctors recruited compared to 2015, a rise of 1 per cent. Core psychiatry training saw an increase of 24 doctors, or 2 per cent, compared to a year earlier.
Across all 16 specialties, HEE said it achieved a fill rate of 79 per cent, a total of 5,821 doctors.
The data from HEE covers the first round of recruitment and final numbers are likely to increase following further recruitment in coming months.
Dr Mark Holland, president of the Society for Acute Medicine told HSJ: "This causes us a big concern. The immediate effect will be gaps in the rotas and they will have to be filled either with locums or asking staff already in post to take on extra duties. It will also have a knock on effect in future years with the quality of staff to recruit into registrars and ultimately consultants."
He said he did not believe the current contract dispute was the only cause of the reduction adding long-standing pressures in acute specialties had been seen for a number of years.
"The contract dispute is the battleground for multiple issues over the last 10 to 15 years."
The Royal College of Emergency Medicine has welcomed the increased recruitment.
Clifford Mann, president of the college, said: "The recruitment figures are a welcome morale boost for all emergency medicine clinicians. Ensuring that departments are properly staffed improves patient care, working lives and diminishes the dependency on locums."
Specialty recruitment fill rates
Specialty
2016
2015
Year on year change
Year on year % change
Accepted
Fill rate
Accepted
Fill rate
Core psychiatry training
280
67%
256
65%
24
2%
General practice
2,296
70%
2,144
69%
152
1%
ACCS acute medicine/core medical training
1,036
78%
1,144
87%
-108
-9%
Paediatrics*
316
84%
359
96%
-43
-12%
Histopathology
65
88%
58
85%
7
3%
Obstetrics and gynaecology
209
91%
205
100%
4
-9%
ACCS anaesthetics/core anaesthetics
459
94%
519
100%
-60
-6%
Public health medicine
56
95%
78
100%
-22
-5%
ACCS emergency medicine
298
96%
325
99%
-27
-3%
Core surgical training
506
100%
498
99%
8
1%
Clinical radiology
205
100%
212
100%
-7
0%
Ophthalmology
60
100%
74
100%
-14
0%
Neurosurgery
22
100%
25
100%
-3
0%
Cardio-thoracic surgery
5
100%
6
100%
-1
0%
Community sexual and reproductive health
5
100%
2
100%
3
0%
Oral and maxillo-facial surgery
3
100%
5
100%
-2
0%
Total
5,821
79%
5,910
82%
-89
-3%
*Clearing for ST1 Peadiatrics is ongoing