Health secretary Jeremy Hunt has agreed to talks with the British Medical Association through the mediation service Acas over a new junior doctors contract.
Mr Hunt has urged the doctors' union to call off strike action planned from 1 December.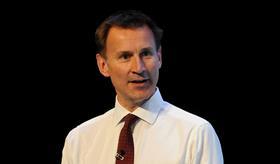 In a letter today to BMA council chair Mark Porter, the health secretary said he was "very happy" for Department of Health officials and NHS Employers to commence talks through Acas.
The BMA has said it will refuse to call off strikes until Mr Hunt removes the threat to impose a new contract by August 2016.
Mr Hunt said: "Whilst I believe the right thing to do is to return to the negotiating table directly, it is clear that any talks are better than strikes."
There have been no negotiations between the union and NHS Employers over the junior doctors contract since the BMA walked out of talks suddenly in October 2014.
Mr Hunt added: "Given we will shortly be commencing with Acas our first negotiations in over a year, I would also urge you to think again about whether extreme strike action in the NHS's busiest period – which will at best disrupt patient care and at worst cause serious harm to patients – is appropriate or necessary."
The move follows NHS Employers last week approaching Acas about the possibility of negotiations.
NHS Employers said it made the approach after the BMA proposed using Acas to mediate conciliatory talks, in the wake of a vote by junior doctors overwhelmingly backing strike action.
NHS Employers chief executive Danny Mortimer said: "Employers across the NHS will welcome a return to discussions with the BMA, working with Acas conciliation services. I remain hopeful that through our joint endeavours we can end this dispute, and modernise the contracts for doctors whilst also addressing their concerns."
Dr Porter said: "It is encouraging that Jeremy Hunt has made a significant shift in accepting the BMA's offer of conciliatory talks through Acas, finally recognising the fact that trust has broken down between junior doctors and the government.
"However, junior doctors and the public, who by now will be used to Jeremy Hunt's political game playing, will not be surprised by the fact that he has waited until now to do the right thing.
"We hope to start these talks as soon as possible in order to reach a collaborative agreement for the benefit of patients and the NHS. Importantly, Jeremy Hunt must finally remove his threat of imposition in order to defer Tuesday's industrial action."