Jeremy Hunt launches bid to increase NHS managers with clinical backgrounds
Mr Hunt rejects idea that non-clinical managers were needed to take control of hospitals
Government will look to reverse changes to medical training made after introduction of the European working time directive
Introducing a general "manager class" in the NHS may have been "an historic mistake", the health secretary has said today.
In a speech at the NHS Providers conference, Jeremy Hunt distanced the government from the reforms carried out after Roy Griffith's landmark report in the 1980s and said he wanted to see more managers with a clinical background working in the health service.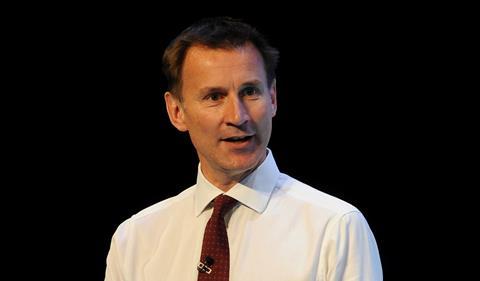 Speaking to HSJ after his speech, Mr Hunt said he disagreed with the idea, which he suggested had arisen from the Griffith's review, that non-clinician managers were necessary to "whip doctors into line".
He told the conference the NHS had some of the "most outstanding leaders in Britain today", but: "What is striking when you look at the pool of potential NHS leaders of the future is just how few have a clinical background, with clinicians representing a third of chief executives. Only 54 per cent of [all] managers in our hospitals are clinicians, compared to 74 per cent in Canada and the US, and 94 per cent in Sweden."
He said urgent action was needed to "broaden and deepen the pool of people willing and able to step into NHS management roles".
"Given that one of the most important roles of a chief executive is to motivate a large number of able, smart but – let's be honest – often quite headstrong clinicians, we should today ask whether the NHS made a historic mistake in the 1980s by deliberately creating a manager class who were not clinicians rather than making more effort to nurture and develop the management skills of those who are.
"I would like to see a greater proportion of clinician chief executives raised in the next decade, allowing space for an outstanding new generation of leaders from both clinical and non-clinical backgrounds and more properly exploiting the huge talents of our female and BME workforce at the same time," he said.
Mr Hunt then told HSJ: "I am rejecting the idea [linked to the Griffiths review] that the way to get control of hospitals is to have managers who are not clinicians whose role is to whip doctors into line. That is wrong, we need to be boosting the number of clinicians who go into leadership roles."
Mr Hunt's other announcements included:
Health Education England will examine whether doctors will be able to choose clinical leadership as a specialism with a dedicated programme.
NHS graduate scheme places will be doubled to 200 in 2018, followed by a phased increase of 1,000 places a year.
A review of professional regulation by Faculty of Medical Leadership and Management to encourage nurses and doctors to move into leadership roles will be completed in 2017.
The NHS Leadership Academy will send 30 students a year to global universities to fast track their move into senior management.
The launch of an "NHS MBA" for senior professionals in September.
The health secretary also highlighted the recent dispute with junior doctors and the need to improve morale, and suggested the NHS should return to the old "firm" structure of training.
He said: "When we implemented the European working time directive for junior doctors, although we rightly reduced the excessive hours they worked, in dismantling the 'firm' system completely we may have thrown the baby out with the bathwater.
"I have asked HEE to work with the Royal College of Surgeons to pilot a new approach to explore whether a modern firm structure could enhance the effectiveness of medical teams, give better support to its members, make junior doctors feel more properly valued and get better outcomes for patients."
Updated on 1 December to reflect the fact that Mr Hunt said he disagreed with the idea, which he suggested had arisen from the Griffiths review, that hospitals should have managers who "whip doctors into line"; to avoid an impression that this idea or approach is prevalent today.
Hunt: Introducing NHS general management may have been a 'mistake'
1

Currently reading

Hunt: Introducing NHS general management may have been a 'mistake'

2

3

4