Workforce plan will set out the challenges for NHS over the next decade
Jeremy Hunt says planning made more difficult by "short-termist" spending reviews
CQC should act when a trust is found replacing nurses with nursing associates
Jeremy Hunt has said he wants the new NHS workforce strategy to "lay the foundations" for the next decade.
In an interview with HSJ, the health secretary admitted he and other health secretaries had been constrained on workforce planning by short term spending concerns in the past, but the new strategy would be different.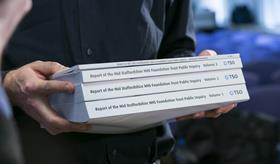 Mr Hunt also said he expected the Care Quality Commission to act when trusts were found substituting nursing associates for registered nurses, and reiterated his view that the nursing workforce needed to keep growing.
A draft of the new workforce strategy is expected to be published next month.
Mr Hunt said 1 million more over-75s in the population over the next 10 years would add huge pressure to the NHS. He continued: "I want this workforce strategy to set out realistically the scale of the challenge we face. I want to give confidence to the NHS in its 70th year that the government and NHS leadership understand those challenges and we are approaching them in a measured, structured and thought through way.
"What we publish before the end of this year will have some very practical measures on our maternity workforce, our cancer workforce, our primary care workforce. There will be some details in some specific areas but it's also about presenting to the country the challenges that we face."
He added: "My strong view, having been involved in this job for a while now, is that the big problem with workforce strategies is that both me and predecessors in my role have only thought about workforce in terms of the current spending review and that's really what has caused us a problem in the past because we only committed to train people for whom the Treasury had given concrete assurance they were prepared to fund.
"We ended up with very short-termist spending reviews, sometimes they were only a year; thankfully in the NHS's case it has gone up to four years. My view is, given how long it takes to train a doctor or a nurse, you cannot have a workforce strategy that is anything less than 10 years, that's why what I need to do is lay the foundations so that there is a plan in place for the next 10 years that can survive general elections, change of health secretaries and change of governments."
On the nursing workforce, Mr Hunt said: "There is absolutely no question that you need enough nurses to deliver safe care – that was the clear message from the [2013] Francis report and since then we have 11,000 more nurses in the NHS so there has been significant investment in nursing."
On concerns that some NHS trusts are substituting nursing associates for nurses, he added: "I am not going to say there aren't places that are getting it wrong when it comes to nurse to patient ratios and that's what we have the CQC regime for.
"If there is unsafe practice in the way professionals are being used, if [nurses are being replaced by nursing associates] then I would expect the CQC to show a great deal of interest. Their priority is to improve the safety of care."
But he added: "Pretty much every trust in the country has more nurses than at the time of the Francis report, pretty much every trust in the country is planning to recruit yet more nurses. This is not about a contraction for the nursing workforce, that is going up, and it needs to continue going up, but there may be times when some of the roles can be done by other professionals in a way that is safe for patients and more sustainable in terms of trust finances.
"If you look at the Francis report, there is no doubt that wards in Mid Staffs were short staffed and there was no doubt that contributed to some of the shocking poor care. But there is also no doubt that some of the jobs that needed to be done, like bringing patients a glass or water or answering a call bell, didn't always have to be done by a registered nurse."
Exclusive: Internal market and FT 'islands' hamper safe care, says Hunt
1

2

3

Currently reading

Hunt: New NHS workforce plan will 'lay foundations' for next decade

4