Health secretary Jeremy Hunt will today outline plans to create an extra 5,000 training posts for student nurses from next year, an increase of 25 per cent.
If successful, this would take the number of undergraduate training places from 20,680 during the current year to 25,850 in 2018-19.
Following reforms to the NHS bursary scheme, the government can no longer commission training places directly. It will instead have to rely on the free market it has created with universities needing to create enough extra places and find students to fill them.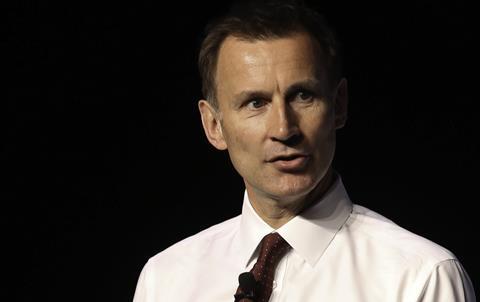 HSJ understands the new commitment would require around £35m of new funding over three years, and that this is likely to be included in the autumn budget following negotiations over the apprenticeship levy. The funding would pay for the clinical placements which for nursing accounts for 50 per cent of the degree allowing universities to offer more places to students.
The new training posts are in addition to the extra 10,000 places that the government previously pledged by the end of 2020-21, a statement said. This suggests there would be 15,500 additional training posts by the end of the three year period.
The announcement is due to be made by Mr Hunt at the Conservative party conference today.
The Conservative party said a further 5,500 nursing associate placements would be funded each year by 2019, through the apprenticeship levy, and they would be able to qualify as registered nurses via a work based route, rather than through a university degree.
This year the government has scrapped nursing bursaries as part of an attempt to expand the number of places that can be offered.
But in August, UCAS said the number of students offered a firm place at university to study nursing in England was 8 per cent down compared to the same point last year, raising questions over whether the policy was working.
Delays to additional funding may have been a factor in this, as well as a drop in total university places.
The DH will need to ensure that funding is secured in the budget and that it results in universities offering more places. There are also likely to be questions about how NHS providers can accommodate a large influx of trainee nurses and nursing associates, who will need supervision and mentoring.
Mr Hunt said in a statement: "The NHS will be looking after a million more over 75s in just a decade, so we need to jump start nurse training.
"This represents the biggest increase in nurse training places in the history of the NHS - and we will make sure that many of the additional places go to healthcare assistants training on hospital sites, allowing us to expand our nurse workforce with some highly experienced people already working on the NHS frontline.
"We will also improve retention rates amongst our current workforce with new flexible working arrangements to be made available to all NHS staff, and a new right of first refusal for affordable housing built on NHS property.
"Combined with the 25% increase in medical school places announced last year, this will transform the ability of our NHS to cope with the pressures ahead."
Source Date
2 October 2017
NHS workers to get first refusal on affordable homes
1

2

Currently reading

Hunt plans 25 per cent increase in student nursing placements