The Nursing and Midwifery Council has been asked by the government to regulate the new nursing associate role.
Health secretary Jeremy Hunt has said because those in the new role will be able to administer medicines, a "stronger regime of assurance" will be necessary to ensure safe and effective clinical practice.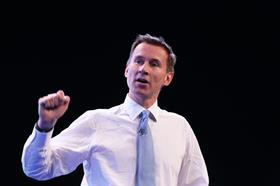 Speaking at the NHS Providers conference today, he said statutory professional regulation is a "necessary and proportionate requirement" for this "important new role", which requires a significant level of judgment to be applied in practice by those in the position.
The NMC has previously told HSJ's sister title Nursing Times it would be able to take on the additional regulatory task, but the final decision lay with the Department of Health.
England's four most senior nurses recently backed statutory regulation for nursing associates.
Earlier this year, Health Education England announced 1,000 nursing associates will begin a two year training programme at 11 test sites across England in January, with a further 1,000 expected to follow in April.
The new role, which is designed to bridge the gap between healthcare assistants and nurses in England, will not replace nurses, Mr Hunt said. Nursing associates will free up nurses so they can spend more time using their more specialist training to focus on clinical duties and take more of a lead in decisions about patient care, he added.
The associates will train through an apprenticeship that could count towards a nursing degree in future.
Mr Hunt also announced degree level nurse apprenticeships are expected to begin next September, with up to 1,000 people training via this route in the NHS every year once programmes have been fully established. They will not have to pay to study and will work in the system as they train.
The Department of Health said apprentices will be able to join the programme at different stages, depending on their qualifications and previous experience.
Mr Hunt said existing routes to gain a nurse degree "shut out" some of "the most caring, compassionate staff in our country". "I want those who already work with patients to be able to move into the jobs they really want and I know for many, this means becoming a nurse," he said.
"Not everyone wants to take time off to study full-time at university so by creating hundreds of new apprentice nurses, we can help healthcare assistants and others reach their potential as a fully trained nurse."
NMC chief executive Jackie Smith said: "There is strong support for the nursing associate role and the Department of Health has today decided that it is a role which requires regulation.
"As an organisation we are well equipped to take on the role of the regulator, however, this decision will be made by our council at its meeting 25 January."
Hunt: Introducing NHS general management may have been a 'mistake'
1

2

3

Currently reading

Hunt: Regulation 'necessary' for new nursing role

4