An initiative that recognises, celebrates and embeds compassionate leadership is fostering a growing community, write  Yvonne Sawbridge, Alistair Hewison, Laura Rogers, Rob Cragg, Sarah Lehmann and Jane Rook
Compassion is a term often used synonymously with good patient care. West and Dawson (2011) found "…cultures of engagement, positivity, caring, compassion and respect for all – staff, patients and the public – provide the ideal environment within which to care for patients".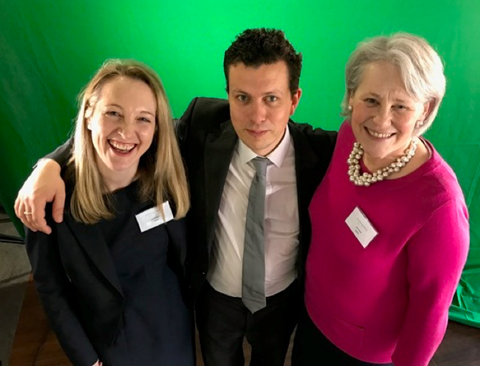 Whilst "Compassion is a sensitivity to the distress of self and others with a commitment to do something about it" a practical working definition of compassion can be difficult for organisations and the old adage of "I know it when I see it" can prevail. Therefore, with support and sponsorship from Health Education England in the West Midlands, a Leading With Compassion initiative was launched in Shropshire and Staffordshire in 2015 to embed, recognise and research compassionate leadership.
The premise was that if compassion is witnessed, described and enacted it becomes part of the conversations, behaviours and environment of care. It is beyond the scope of this short article to examine the theory in depth (see www.nhscompassion.org for more detail) but the nominations reflected the range of compassion in action and a summary can be found in this video.
Leading with compassion
Arising from the initiative, a group of colleagues with a passion for staff wellbeing and leadership developed the Leading With Compassion recognition scheme. This involves a simple process whereby any patient, carer, visitor or staff member can nominate anyone they feel has acted with compassion.
Each person nominated receives a bespoke card recording the nomination and a badge. Nominations are made by completing a card and posting it in a designated box, or electronically on the programme website (www.nhscompassion.org) by answering two questions.
1. "How did the person lead with compassion?" (The action)
2. "What was the impact on you/and or others?" (The impact).
The project leads then collated over 1,500 nominations from 11organisations, and based on this can now describe compassion in terms of the seven actions and seven impacts summarised in Box 1 (below) and captured in this short animation.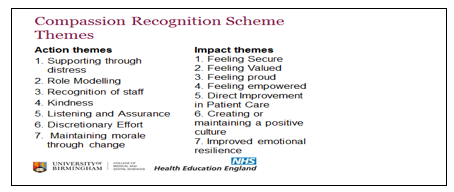 A Compassion Celebration Event was hosted at George Eliot Hospital in Nuneaton for participants in the scheme to share experience and learning. The day also involved attendees recording their own Compassion Journey in a personal record booklet, produced by the North Staffordshire Combined NHS Trust Communications Team.
Overwhelmingly positive
An independent evaluation was commissioned from the University of Birmingham, and a key finding was that compassion is not restricted to clinical care, and this scheme recognises compassionate leadership as a requirement for all healthcare staff.
Whilst some concern was expressed about recognising staff for demonstrating behaviours and attitudes which should be expected, generally respondents were overwhelmingly positive about the impact of the scheme. It is low cost at £1.48 for each badge and certificate (and some administrative time to operate it) and is a means of promoting a culture which enhances the delivery of compassion. Johnson's framework (Box 2 below) indicates how the Leading with Compassion recognition scheme can influence culture by creating stories, symbols rituals and routines which reflect compassion in action.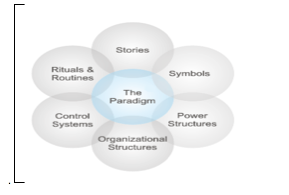 Indeed the evaluation identified a number of ways in which organisations planned to use the scheme to promote compassionate cultures. Including running a photography competition, (the theme being compassion- producing a calendar of 12 photographs depicting how compassion is enacted in the organisation) and producing a "heat map" of their organisation to trace the source of nominations and examine the reasons for this.
Others planned to encourage professional nursing staff to use it as evidence for the purposes of revalidation. There are many ways the scheme can be embedded in the processes of individual trusts.
What next?
This project has produced a working definition of compassion from the health and social care community in the West Midlands which we believe is the first to characterise compassion in this way.
The Leading with Compassion community is developing a roadshow for all participating organisations, sharing the teaching materials and progressing the partnership learning and community of practice in action. The website www.nhscompassion.org is also available as a resource for the healthcare community to share best practice, research and inspirational stories.
Recommendations from the evaluation will be used to improve the scheme, and extend its reach. Ideas include using the videos in induction programmes to help set an expectation for all staff about compassionate behaviours, and disseminating a package of learning materials for organisations interested in introducing the scheme.
The 1,500 compassionate acts captured from 11 NHS organisations reflect compassion in action. As one contributor to the evaluation commented: "It's the little things people remember – they don't remember the policies and strategies, but how they were treated." This captures the essence of the spirit behind this novel initiative.
Yvonne Sawbridge and Alistair Hewison, Birmingham University; Laura Rogers, Rob Cragg, Sarah Lehmann and Jane Rook, Leading with Compassion team, Staffordshire and Shropshire Leadership Leads group.