Jeremy Hunt says the BMA carried out a "campaign of misinformation"
Health secretary says doctors' union should negotiate with the DH
Government will not consider using Acas without "meaningful talks" first
The health secretary has rejected an offer of third party mediation with the British Medical Association over government plans to impose a new contract on junior doctors.
Responding to the results of the BMA's ballot of more than 37,000 junior doctors, Jeremy Hunt insisted union representatives had to come back around the negotiating table before the government would consider using Advisory, Conciliation and Arbitration Service.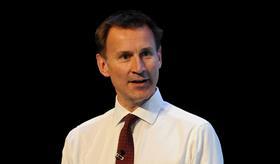 Junior doctors have voted overwhelmingly for strike action over government plans to impose a new contract.
Mr Hunt has previously accused the BMA of being unreasonable in refusing to re-enter negotiations after the doctors' union walked away from negotiations in October 2014.
The BMA has for the first time today offered to hold conciliatory talks via Acas having so far refused to negotiate.
Mr Hunt said: "It is regrettable that junior doctors have voted for industrial action which will put patients at risk and see operations cancelled or delayed. We want to ensure patients have the same quality of care across the week and have put forward a generous offer that increases basic pay by 11 per cent and reduces doctors' hours. We hope junior doctors will consider the impact this action – especially the withdrawal of emergency care – will have on patients and reconsider."
He told the BBC the dispute was the result of a "regrettable campaign of misinformation by the BMA over the summer to try to scare doctors with big pay cuts".
He added that the goverment had already asked the independent Review Body on Doctors' and Dentists' Remuneration to make recommendations for the future of the contract, adding: "You can't keep going back to more and more independent processes."
The Department of Health said while the government would not rule out using Acas it said the process had to follow "meaningful talks".
It said: "We have already sought independent views on contract reform – having asked the independent DDRB for advice which formed the basis of our offer, an offer which the BMA have so far refused to talk about. Both the BMA and the government gave evidence to the DDRB. We continue to urge the BMA to come back round the table, and as the health secretary said earlier this week, there are no preconditions to any talks."
Jeremy Hunt rejects BMA offer of Acas mediation
1

Currently reading

Jeremy Hunt rejects BMA offer of Acas mediation

2

3