Jim Mackey says there would need to be "money to back" a pay rise
NHS would be unable to save enough money to match increase in staff wages, NHSI chief says
Trusts told to prepare for "earned autonomy"
The NHS should be given more money if the government scraps the public sector pay cap, the chief executive of NHS Improvement has said today.
Jim Mackey, speaking at the Patient Safety Congress in Manchester, said the health service would not be able to find efficiency savings to match the funding required to increase staff's wages.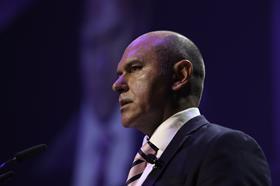 He said: "If and when the pay cap is lifted, there needs to be money to back it."
When asked by HSJ if that meant "new money" for the NHS, Mr Mackey said: "I'm not making the decision but in my view… I'm not sure how we would generate that level of internal efficiency to get out that."
However, he said ending pay restraint alone would not be enough to improve staff morale – echoing the view expressed yesterday by Sir Robert Francis QC, who said lifting the pay cap would not work in isolation.
Mr Mackey said: "If everybody gets an extra 1 per cent but demand is still relentless; you have a clinical model that doesn't work; you have a leadership that doesn't say thank you; you've got angry patients – the 1 per cent is not going to do anything to how you feel about work.
"We have got to deal with this whole thing in the round and let's not oversimplify it."
The NHSI chief executive is the first senior national NHS official to comment on the issue since calls for a pay rise increased after the election.
Care Quality Commission chief executive Sir David Behan, speaking at the event alongside Mr Mackey, highlighted the financial burden on the adult social care system when the national living wage was increased.
He said: "I think the debate about culture and the importance of culture is hugely important but the national living wage cost adult social care £380m.
"If you are on £8 an hour and you have had [a pay rise of] 1 per cent a year for the past five years and your utility bills have gone up something like 4 per cent per annum, then you are genuinely going to be struggling."
Mr Mackey said the NHS needed to prepare for "earned autonomy" when the current, unprecedented financial constraints end.
He said: "We are in an overcentralised system. We are in an overcontrolled part of the cycle of the NHS's evolution.
"That's absolutely been necessary because of the financial situation but none of us should think these things last forever.
"We have got another couple of years of control totals and all those mechanisms that we are all using now.
"The key thing for this year is developing what earned autonomy looks like in the future – so we recognise how the world's fourth or fifth biggest employer actually runs itself from the service point of view rather than from the centre."
He said earned autonomy could evolve from the freedoms existing under the foundation trust model but it would have to work in a "system context" and for staff, not just organisations.
Mr Mackey stressed there would be no "blank cheque" for the NHS but called for more honesty when explaining to the public why services had to change.
"Let's not dress up service change on the back of it being about service quality or something else when it's actually about money," he said.
"The public generally understand and appreciate these things when we are honest with them and the staff will do as well."
Mr Mackey, whose secondment from Northumbria Healthcare Foundation Trust ends this autumn, said staff had to focus on what they could improve rather than being overwhelmed by the scale of the challenge facing the service.
"People will write books about this period in NHS history," he said.
"One of the dangers in these times is it is generally quite bleak. When you read the papers, watch the television, if you are a Sunderland supporter, whichever way you look at it, it's a bit bleak.
"But there is always something you can do. We have got to try and break these things down into manageable chunks."
He said being open about workforce challenges was a first step towards finding solutions.
"We are a long way off from what the solutions are but we have made a start," he added.
Mr Mackey also called for a renewed focus on quality and listening to patients.
He said: "That doesn't mean the old binary thing of 'well, I'll just spend whatever'… Generally, quality does come with better use of money but let's not just squeeze out quality when things are tough."