NHS Improvement chief executive says regulator will take tougher approach to medical locum spend
It may further reduce the pay cap in future if necessary
Regulator will use locum cost data to identify unsustainable services
NHS Improvement chief executive Jim Mackey has told HSJ the regulator will now intervene more actively to ensure trusts enforce medical locum rate caps.
Mr Mackey also said he would, if necessary, cut the cost cap rate further, to force a "market correction".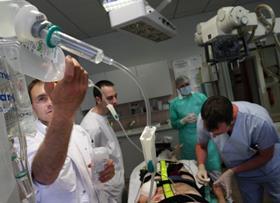 Caps on locum doctor rates have been in force since November 2015, but Mr Mackey indicated they were often not being enforced rigorously enough, meaning many trusts could cut more from their costs.
He said NHSI would be identifying trusts and services that are over-reliant on locums, and potentially indicating which ones need to close as they are "not a good use of public money".
Mr Mackey said: "If people want to work as a locum for flexibility and lifestyle I think as employers we need to take some responsibility for that and make sure we are as flexible as we can be. In some places there is a shortage of supply so we need to produce more.
"But if there are people who are doing it frankly because they can be paid more, I think that is really bad for the existing staff, it's bad for public money, it's bad for continuity.
"I want to be in a position where there is no financial incentive to do that. We will keep working at it and it might require a regulatory intervention.
"We have sort of done that with the [pay rate] frameworks, we just haven't enforced it harshly yet."
Locum doctors were still "playing providers off against one another", Mr Mackey said.
NHS Improvement will now monitor and intervene more intensively.
Mr Mackey said "nothing is off the table with this" and indicated he would lower the rate further "if we have to have a market correction". "I will, if I have to, set the rate," said the NHS Improvement chief.
He said the regulator would identify trusts with high locum spending, and discuss with them what action could be taken – for example employing more doctors substantively or networking with neighbours. But he said "in some cases it could well end up with us saying this is not a good use of public money", and therefore to reconfiguring services.
Often the services were not flagship units like accident and emergency, obstetrics or emergency surgery, but "routine outpatient based specialties", giving the examples of endocrinology, ophthalmology, dermatology and haematology.
"Boards need to challenge this. We had some kickback originally about it being intrusive for people to fill in the kind of data that we want but in that discussion there were some providers who said, 'I didn't know we were paying that or I didn't know we had secured this locum for a year'.
"That is not right. If you think about the economics of it, it is distorting the market and sets the rate at a high level for a very long period. We need boards to think about it because it's their money and its money that could be spent on other things."
In June, NHS Improvement wrote to STP leaders asking them to identify unsustainable services that were dependent on locums. Asked about the result of this, Mr Mackey said: "It was really poor. I had a lot of conversations with people who were a bit nervous about putting it into the formality of a process but some, by raising it, had a conversation about [reducing the size of services].
"I was never intending to get at A&E and obstetrics and emergency surgery, the hot stuff, because it is too tricky, but I just wanted to provoke the conversation. In our strongest organisation a locum in a key specialty is almost a never event. In my own context, I would have known all the consultant medical locums because there were less than three."
Exclusive: Trusts will not be 'intimidated or bullied', says Mackey
1

2

Currently reading

Mackey: I'll cut locum doctors pay 'if I have to'

3