Jim Mackey tells trust leaders he is prepared to take more action against unacceptably high pay rates for interim managers
Letter sets out new guidance for appointing interim managers
Trusts urged to help "build the NHS's future leaders"
NHS Improvement chief executive Jim Mackey has told trust leaders he is prepared to step up regulation to prevent "unacceptable" pay rates for interim senior managers.
In a letter to trust chief executives, finance and HR directors sent this afternoon, Mr Mackey described new guidance to make sure interim managers are value for money for trusts.
The letter offers guidance on steps to take before appointing an interim manager, including:
identifying and developing internal candidates for roles if possible, before recruiting more widely;
using fixed term, on-payroll secondments where possible; and
that interim managers should have "clear objectives" agreed before their contract is signed.
Mr Mackey said he was concerned by the use of off-payroll employment arrangements. He highlighted the announcement by the chancellor in last month's autumn statement that interim managers should pay the same tax as substantive staff.
He reminded trust chiefs that they need NHS Improvement approval for any interim senior manager hired through an agency for more than £750 a day, or before extending a contract.
Mr Mackey warned he would take more regulatory action if he needed to.
He said: "The average pay rate for off-payroll interims is twice that for equivalent very senior managers in substantive posts and this average hides many instances where the premium is much higher.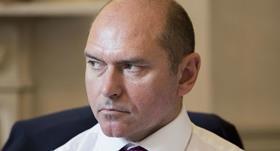 "This is unacceptable when in some cases, there is not enough evidence of need – or indeed that the quality of leadership being 'purchased' is of sufficient quality – to justify such high pay rates. Some on-payroll interims also seek pay rates far in excess of their substantive counterparts.
"Interim pay is already governed by many rules and we will do our best to avoid increasing the regulatory burden. However, I am prepared to take more action if and when required."
The letter does not say what action NHS Improvement could take, but Mr Mackey said the regulator will be "more challenging" over approving senior interims hired on day rates for extended periods.
He stressed that the latest guidance should not be taken in isolation from efforts to develop future leaders within the NHS.
Mr Mackey said: "It will take time to build our future leaders and I would welcome your thoughts on how we can help further.
"I understand that there are times when there is a genuine and unavoidable need for experienced leadership on a short term basis. We need to work together to ensure that this need is met in a more sustainable way.
"We might have a bumpy ride, because we have developed some bad habits. However, I am confident that concerted action will improve the quality of short term leadership, help us restore financial balance across the sector and focus our thinking on the long term leadership needs of the NHS."