NHSE/I recommends pay boost for non-executive directors, including chairs
Restructure is bid to tackle "growing disparity" in pay for chairs and NEDs between trusts and FTs
NHS Providers welcome changes
NHS England and Improvement are planning a significant pay boost for trust chairs and other non-executives as they seek to tackle the "growing disparity" with foundation trusts. 
Under a new national pay structure agreed by the regulators, recommended rates for NEDs at trusts will more than double over the next two and a half years, from £6,157 to £13,000 by April 2022.
The structure is intended to apply to both trusts and foundation trusts, although NHSE/I can only formally apply it to the former. FTs can go outside it "on a 'comply or explain' basis", new guidance said.
Chairs' recommended wages are set within five bands – based on their trusts' turnover – and their skills and experience will determine a pay quartile within each band (see below). For chairs across two organisations, pay will be determined by the largest organisation's size and in the upper quartile, the guidance stated.
NHSE/I, who have received government approval to align the two groups' pay brackets, said there is currently "significant variation" in the levels of basic pay across both trusts and FTs.
In a letter sent to chairs and lead governors late last week, seen by HSJ, the regulators said: "You will… be aware that, for some time, there has been a growing disparity between the remuneration of the chairs and NEDs of NHS trusts and those of NHS foundation trusts.
"To help ensure that, once addressed, the significant gap between NHS trust and foundation trust rates is not recreated, it is intended that the new remuneration structure should apply to both NHS trusts and foundation trusts for new and future reappointments."
The letter said agreement for the pay increases from the government came following "much review and discussion".
The new structure will be implemented in four stages, beginning in October 2019 and ending in April 2022:
Stage one (October 2019): NEDs' recommended salaries increase from £6,157 to £10,000. They can earn up to an extra £2,000 for taking on additional responsibilities.
Stage two (April 2020): NEDs' recommended pay rises to £11,500 and minimum pay for any trust chair is set at £30,000.
Stage three (April 2021): NEDs' recommended salaries increase to £13,000, the third and final pay rise. Minimum pay for all chairs moves to lower quartile values in the pay recommendations.
Stage four (April 2022): Minimum pay for any trust chair moves to median value in the pay ranges.
NHSE/I said revisions to pay levels would be subject to their oversight and approval. It added FTs could not apply for discretionary annual uplifts, which increases pay above the relevant median value, until April 2021 for NEDs and the following year for chairs.
Miriam Deakin, NHS Providers' director of policy and strategy, said the new framework was "welcome recognition" the roles of NEDs in trusts were equally challenging, and will help trusts to recruit and retain experienced NEDs. Recruiting trust NEDs has been a common problem in recent years.
Ms Deakin added: "We also note that, although the guidance includes new suggested parameters for foundation trust chairs and NED remuneration, it does rightly make clear this will remain a local decision for foundation trust governors. This is an important point."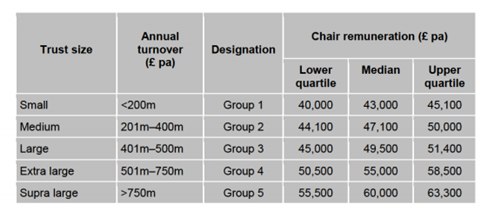 Downloads
PDF, Size 83.87 kb

PDF, Size 0.41 mb
Source
Information supplied to HSJ, press release