Mental health issues among managers is MiP's "number one issue"
Jon Restell says "people are exhausted and have more work to do with less resource"
Tells conference that managers have been key to NHS's success
NHS managers are experiencing depression and suicidal thoughts because of the pressure they are working under, the chief executive of the Managers in Partnership union has warned.
Jon Restell told HSJ that the mental health of members had become the biggest area of work for union staff.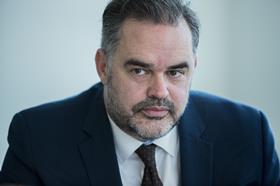 Mr Restell said MiP was being contacted by NHS managers, including chief executives, who were desperate and aware they were unwell.
He said: "The pressures are getting to some people. People are saying they are desperate, they are reporting suicidal thoughts and they feel the quality of their work is going down. It is leading to depression [and] anxiety. What worries me is how senior some of these people are. We are talking about chief executives and other senior managers."
Mr Restell said the union would carry out a wellbeing survey of its members to get an idea of how widespread the issue has become and MiP would do more to support staff in difficulty.
He said: "People are exhausted and have more and more work to do with less resource; some of them are beginning to exhibit real distress and mental health problems. We have seen that in our casework.
"A lot of it is self-imposed working. They are doing longer hours and nights and weekends. We've seen a 12 per cent reduction in the number of managers but their workload hasn't reduced to the same level.
"Many of the support mechanisms that existed under the [strategic health authority] structures aren't there now. Mental health issues among our members is now the number one issue my team are having to deal with."
He warned the pressures would exacerbate difficulties in recruiting leaders to trust boards or to step up to roles such as chief executive, while current staff could leave sooner.
"It will drive people to leave as soon as they can. We will see people leaving before their retirement or going interim or part-time and people leaving the health and care sector altogether," Mr Restell said.
He called on the government and arm's length bodies to come up with an NHS workforce strategy that included a strategy for management, adding: "We need to think about how do we encourage people into these roles; how do we support them? Doing the old fashioned business of employing people with proper management and a better system of occupational health."
In a speech to the MiP summit last week, Mr Restell said managers in the NHS were one reason why the health service had been so successful.
He said: "One of the reasons the NHS has thrived over the last 70 years is because of its managers. If the Nye Bevan model still works for people in this country it is because there are managers making it work and working as part of a wider workforce who share a common belief in the enduring values of the NHS."
Hopson: NHS leaders' careers at risk over 'impossible targets'
1

2

Currently reading

Managers having 'suicidal thoughts' due to pressure, union boss warns