Agenda for Change pay gap is 3.9 per cent in favour of women, despite men 'disproportionately represented' in highest pay bands
Pay gap for non AfC staff is 47 percent in favour of men due to inbalance in top paying consultants' jobs
Analysis follows the government's announcement of plans for an independent review into the gender pay of doctors
Men are disproportionately represented in the highest pay bands for Agenda for Change despite an overall favourable pay gap towards women, an analysis shared with HSJ has revealed.
According to 1.2 million NHS staff records analysed by the Nuffield Trust, across all AfC pay bands there is a median pay gap of 3.9 per cent in favour of women. But when it comes to the top four pay bands there are a disproportionate number of male employees, with the pay gap switching towards men.
John Appleby, chief economist at the Nuffield Trust, told HSJ that the numbers in the top bands were much smaller than the overall numbers but added: "For most of the pay bands from 1 to 8a it is in favour of women and then in the higher four pay bands it switches to a pay gap in favour of men.
"Men represent 20 per cent of all Agenda for Change employees but they are over represented in the top pay bands. This doesn't mean that overall men are paid more than women, that is not what the median says. You need to take account of the absolute numbers.
"Despite the fact that there are more men than you would expect in the higher pay bands than lower pay bands, overall Agenda for Change is associated with a pay gap in favour of women."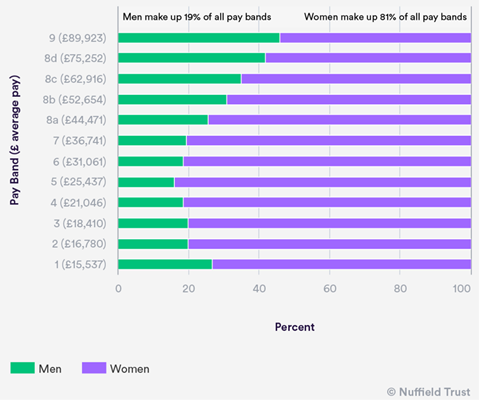 Mr Appleby said the overall 3.9 per cent was "statistically significant, but not huge".
"These figures show Agenda for Change has achieved what it set out to do: ensure that staff are paid fairly and equitably for work done," Mr Appleby said. "The success of Agenda for Change offers lessons for how to redress gender imbalances in other parts of NHS pay – through setting clear and explicit goals to improve equity."
NHS organisations employing more than 250 people were required by the government to publish details of their gender pay gap by April this year. The data revealed that nine out of 10 NHS organisations in England had a median hourly pay gap that favoured men.
The data also revealed the scale of the challenge for NHS staff not covered by Agenda for Change – which includes doctors and some managers – where the overall pay gap is 47 per cent in favour of men.
Mr Appleby said the picture for non AfC staff is "complicated by the significant imbalances between the numbers of male and female staff in top paying consultants' jobs".
"Addressing this will require a better understanding of the barriers preventing more women entering these professions, as well as time for the current inequities to balance out as people reach retirement," he said.
Mr Appleby added that the overall pay gap for all NHS staff of 8.6 per cent in favour of men is also "largely driven by consultants".
"It feels surprising a relatively small group can change the median so much – they overwhelm the AfC group," he said.
This analysis follows the government's announcement this week of plans for an independent review into the gender pay gap of doctors, which will be led by the president of the Royal College of Physicians, Jane Dacre.
The Department of Health and Social Care said male doctors are paid an average £67,788 basic pay, compared to £57,569 for female doctors.
The review will consider the drivers behind the gap and the obstacles that stop a female doctor progressing. This could include access to flexible working, the impact of clinical excellence awards and the predominance of men in senior roles.