CQC will be asked to consider reviewing NHS disciplinary processes during inspections
Imperial College Healthcare Trust to commission investigation into nurse's dismissal after health minister intervenes
Nurse Amin Abdullah died outside Kensington Palace in 2016
Disciplinary processes in the NHS are to come under the microscope after a health minister ordered an independent investigation into the death of an NHS nurse.
Health minister Philip Dunne has intervened in the case of Charing Cross Hospital nurse Amin Abdullah, who died after setting himself on fire outside Kensington Palace in February 2016.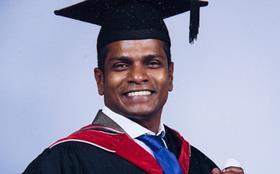 Mr Abdullah had mental health issues following a delayed disciplinary process and dismissal from his job with Imperial College Healthcare Trust.
After meeting Mr Abdullah's partner Terry Skitmore last month, the Department of Health and NHS Improvement have instructed the trust to commission an independent investigation into the management of its disciplinary policies and procedures that led to Mr Abdullah's dismissal.
A letter to Mr Skitmore from Mr Dunne, seen by HSJ, also sets out plans by the DH to discuss with the Care Quality Commission how it could examine disciplinary processes as part of the well led domain in its inspection regime.
He also said DH officials will attend the NHS Social Partnership Forum this month to discuss how to improve disciplinary procedures.
Mr Dunne said he was "committed [to] playing my part in ensuring disciplinary policies and procedures are appropriate and managed in a fair and equitable way by all trusts across the NHS".
He said he wanted to ensure "the leadership and culture across the NHS is one where mistakes, whether in disciplinary processes or errors where whistleblowing is needed, are highlighted and learned from rather than covered up and ignored, with patients and staff suffering alike".
In his report on whistleblowing in 2015, Sir Robert Francis QC linked the experience of whistleblowers, bullying and disciplinary processes. He said he had received "convincing evidence" that concerns often led to disciplinary action rather than attempts to address them.
Mr Abdullah, who won an award for his clinical work in 2014, was suspended in September 2015 after he signed a petition and sent a letter of support for a colleague following a complaint by a patient.
An inquest into his death heard delays in the disciplinary process caused him anxiety. He was dismissed in December 2015 and a month later he voluntarily admitted himself to the St Charles Hospital mental health unit in London.
On 8 February 2016 he left the unit unescorted and killed himself on the grounds of Kensington Palace. The coroner said Mr Abdullah "killed himself while the balance of his mind was disturbed".
Mr Skitmore said he welcomed the Department of Health's intervention. He said: "I want the truth to come out about the way Amin was treated. I firmly believe that the disciplinary process triggered Amin's decline and the delays and lack of communication severely compounded this. Amin had no history of mental health illness. The manner in which he was treated by Imperial turned him from a happy dedicated nurse to an urn of ashes.
"I can't do anything for Amin now, he is at peace but I hope he didn't die in vain. I want to make sure this doesn't happen again. It is quite easy to do if there is a willingness to do it."
Mr Skitmore said he asked the trust to investigate Mr Abdullah's death last year but was ignored.
A spokeswoman for the trust confirmed an independent investigation into his dismissal would take place after Mr Dunne's intervention.
She said: "Trust managers and staff were very saddened by what happened to Amin Abdullah.
"The trust accepts that there were delays in the disciplinary process and has apologised for this as well as making improvements to its disciplinary procedures. Following the conclusion of the coroner's inquest and further discussions with Mr Abdullah's partner, the trust is commissioning an independent investigation into Mr Abdullah's dismissal."