Lord Prior confirms plans to sell NHS Professionals
Government will retain a minority stake in the temporary staff supplier
Ministers want the company to expand its services to more trusts
The government has reiterated its commitment to selling a majority stake in NHS Professionals so the company can "deliver improved services to even more NHS trusts".
In a written statement to the House of Lords, health minister Lord Prior told peers the government would retain a minority stake in the company, which is the largest provider of temporary staff to the NHS, and would be able to take back ownership if the new owner breaches agreements.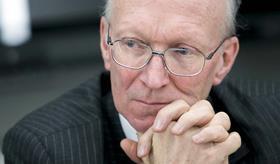 The government has been hinting at selling NHS Professionals since 2014. The limited company was set up in 2010 under the sole ownership of the health secretary and has over 90,000 workers on its books cover 2 million NHS shifts a year.
It works with 55 NHS trusts but Lord Prior said the government had concluded it requires significant investment to expand its services to more, to help reduce the need for agency staff. Last year the agency bill for the NHS was more than £3bn, leading to the introduction of caps on agency spending. These have saved the NHS more than £600m this financial year.
Lord Prior said: "As the largest provider of bank staff to the NHS, the company is in a prime position to respond to the NHS's need for more cost effective and better planned temporary staffing. It currently saves the NHS approximately £70m a year by supplying bank staff to hospitals that are more affordable than those staff supplied by expensive agencies.
"We want to see the company take advantage of this opportunity to expand its business, acting as a true alternative to expensive agencies. But the company cannot do this without substantial investment to improve the services it offers."
He said after market analysis and a thorough appraisal of a business case, the Department of Health's preferred option "is to create a joint venture partnership to bring in the necessary investment and expertise to the business and give the company greater operational autonomy. The department will sell a majority shareholding so that the company is run and controlled by the new partner, which will carry the majority of the finance and operating risks of the business."
He added: "The department's retention of a minority shareholding will also ensure there are no significant changes to the agreed purpose and objectives of the company. This is backed up by the right to take back ownership of the company in the event of any serious breach of the agreed main objectives."
The government will launch a tendering process through an advert in the Official Journal of the European Union.