Research suggests more decision makers leads to better performance in hospitals
Patient experience scores and infection rates improved the more managers there were
There are more than 40,000 general managers working in the NHS
Having more staff with decision making powers leads to fewer infections and better overall patient experiences, new research has concluded.
The study by experts at Warwick Business School and Leeds University found the more clinical staff and non-clinical staff who had powers to make budget decisions or were involved in other management processes, the better a trust performed.
The study compared 150 acute hospital trusts' performance and outcomes over from 2007 to 2012. A manager was defined as any person with decision making powers.
Professor Ian Kirkpatrick from Warwick, who led the study, said: "Against expectations, we found that higher levels of managers in a trust had a statistically significant relationship with improved outcomes in terms of infection rates and hospital patient experience scores.
"Further tests exploring the impact of management pay and stability levels also yielded positive results, showing that when average levels of pay and stability are higher, managers can have an even stronger positive impact on patient experience and efficiency."
The study showed a slight increase in the management to staff ratio at acute trusts – from 2 per cent to 3 per cent – correlated with those trusts being in the top third in terms of efficiency and patient experience scores. Such an increase would mean an average of 39 more decision makers at a trust.
A higher ratio of managers also appeared to lower infection rates and better patient experience. The effect was amplified when pay levels and stability was taken into account.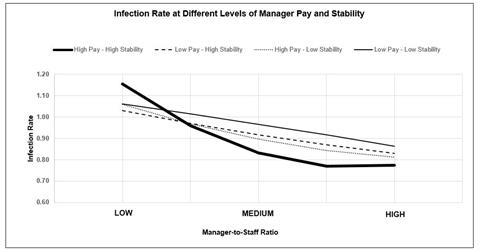 Today there are close to 40,000 general managers in the NHS, within a total workforce of 1.36 million. Clinical professionals in management roles make up approximately 30 per cent of the 40,000, with the rest coming from administrative backgrounds including accounting and business.
The study, which was supported by Gianluca Veronesi and Ali Altanlar from Leeds University, found managers made up approximately 2 per cent of the workforce, with an average number of managers for each trust being 68. Indicators for performance included hospital level infection rates, the reference cost index and the quality of the care provided as reported by hospital patients.
Professor Kirkpatrick said: "The findings call into question many of the assumptions about the failure of general managers in the NHS.
"Of course, this is not to suggest that general managers always do a good job. The experience of Mid Staffordshire and other failing hospital trusts is testimony to that fact. Nor do our findings rule out the possibility that the NHS has become overly bureaucratic with too much time devoted to administration and form filling to comply with targets.
"But the evidence suggests that overall, managers make a positive contribution to the running of trusts."