Senior nurses in England sign letter defending plans for nursing associate role
Letter confirms nursing associates will take on tasks currently performed by nurses
New research says substituting nurses for non-nurses increases mortality risk
The most senior nurses in England have defended plans for the new nursing associate role
In a letter, they said the role is necessary because the NHS's existing workforce "does not have the capacity" to meet changing patient needs under new care models.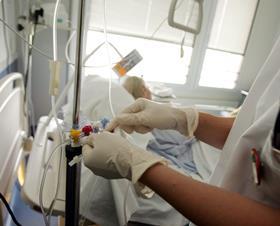 The letter, published on 2 November, comes after documents leaked to HSJ revealed nursing associates would be allowed to act independently of nurses and calculate and administer controlled drugs to patients.
England's chief nursing officer and directors – Ruth May (NHS Improvement), Professor Jane Cummings (NHS England), Professor Lisa Bayliss-Pratt (Health Education England) and Hilary Garratt (NHS England) – said a focus on public health, prevention, self-care and long term condition management needed a flexible workforce with portable skills.
"The composition of the current workforce simply does not have the capacity to meet all of these needs," they said.
"The nursing associate role… will work under the direction of a fully qualified registered nurse. The nursing associate is not a registered nurse but will undertake some of the duties that [a registered nurse] currently undertakes, and is expected to undertake to meet the challenges of the [Five Year Forward View].
"The role of the nursing associate will enable the [nurse] to spend more time on the assessment and care associated with both complex needs and the advances in treatments."
They added: "Our expectation, subject to further work on assessing the patient safety impact of the role, is that the nursing associate will be regulated."
In January, 2,000 nursing associates are expected to begin their training at pilot sites with a decision on regulation expected from the Department of Health in the coming weeks.
Meanwhile, research published today has said diluting the nursing skill mix increases the risk of patient death. The study found that for every 25 patients, substituting one registered nurse with a non-nurse increased the possibility of the patient dying by 21 per cent on an average ward. The research was published in the BMJ Quality and Safety Journal.
One of the researchers, Professor Peter Griffiths from Southampton University, said: "We need to recognise that these changes in the configuration of the workforce are experiments and these findings tell us that much like changing from treatments of known effectiveness to a new treatment, it is an experiment that has potential risks. It is absolutely essential that we don't hide these risks from ourselves. We have to evaluate these changes for their impact on the workforce and patients.
"What these findings are doing is actually raising a note of caution about the potential risks associated with the dilution of skill mix. We have to recognise that much of what lies behind the nursing associate role is the shortage of registered nurses. Without that shortage, is there anything in the evidence base that suggests this is the way to go to explore new ways of configuring the workforce? Everything we have suggests you should invest in a highly trained highly skilled nursing workforce."
A Department of Health spokesman said no final decisions had been made about the role. "All nursing associates will undertake an extensive two year education and training programme," he said. "Nursing associates will play an important role in delivering better patient care matched to their skills, and we will be working with Health Education England to ensure the final curriculum reflects that."