NHS Shared Business Services creating new framework for apprentice training supplies
The framework available free of charge to the NHS
Potential market value for is estimated at £2bn by 2021
NHS Shared Business Services is creating a new framework for suppliers of apprenticeship training with a potential market value of £2bn by 2021.
The framework will be available free of charge to NHS providers to allow them to source suppliers easily.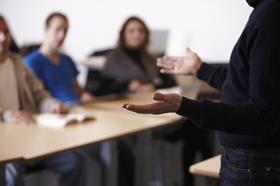 From 6 April, trusts will be required to pay a new apprentice levy worth 0.5 per cent of their pay bill as part of a government drive to fund more than 3 million apprentices nationally.
The NHS is expected to raise £200m towards training new apprentices through the levy, with the government expecting the policy to raise £3bn overall.
The framework tender process for suppliers is open now and the framework is expected to up and running by May.
It is open to any supplier that is approved by the Skills Funding Agency and named on the Register of Apprenticeship Training Providers.
Suppliers will be awarded a place on the framework after being assessed against predetermined requirements, which means the NHS will be able to get a consistent standard of training.
NHS Shared Business Services has worked with a number public sector organisations in Greater Manchester to establish the assessment criteria for suppliers.
Once in place, the framework will include training providers from a range of specialities and provide a means to access to legally compliant contracts. It will enable provider trusts and other organisations to make direct awards to suppliers or run mini competitions as required.
The framework will be in place until April 2021 and NHS SBS has estimated it is worth between £1bn and £2bn, as public sector organisations invest in more apprenticeship schemes.
There are more than 15,000 apprentices training and working in the health service. The Department of Health has set a target for the NHS to create 100,000 apprenticeships by 2020, including roles such as nursing associates and healthcare assistants, and nurse apprentices who will train to reach the same standards as fully qualified nurses.
Apprentices will also work in IT, administration and domestic services.
Under new rules an apprentice must be contracted and paid for a minimum of 30 hours a week and must spend 80 per cent of their time learning in the workplace and 20 per cent in the classroom.
David Morris, NHS SBS managing director, said: "We manage over 70 framework agreements that cover a huge range of goods and services the NHS needs to operate effectively. Each one is developed to provide NHS trusts, commissioners and arm's length bodies – as well as other public sector organisations – with the means to buy high quality goods and services in a way that saves them time and money, whilst also ensuring they are fully compliant with complex UK and EU procurement legislation.
"Our new apprenticeship training services framework is being set up to help organisations make the most of the new levy being introduced next month, by providing a simple route for the NHS to fund more quality apprenticeship schemes from approved training providers."