New regulations will be created after powers granted to the health secretary in 2015 following the Freedom to Speak Up Review
Sir Robert Francis QC said his review heard evidence from whistleblowers suggesting some were being blacklisted by NHS organisations
Regulations covering all NHS trusts and national bodies will be in place from autumn 2016
New regulations to try to prevent NHS organisations from blacklisting whistleblowers will be put in place later this year, HSJ has learned.
A Department of Health spokeswoman confirmed it intends to bring in new regulations that will make it illegal for named organisations such as Health Education England and NHS England to discriminate against whistleblowers who are seeking new employment in the NHS.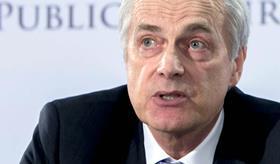 This was a key recommendation from the Freedom to Speak up Review by Sir Robert Francis QC in 2015, which highlighted the failure of existing laws to prevent discrimination.
Sir Robert said he had heard evidence from whistleblowers who feared they had been "blacklisted". He said: "We have been given examples of interviews and job offers being retracted at the last minute or references being withheld without apparent reason. Employment checks and references are both acceptable and necessary precautions for employers, particularly in a sector such as the NHS which has a duty to patients, but blacklisting should be unacceptable."
The government added Health Education England and other NHS organisations to the list of prescribed bodies that can receive whistleblowing disclosures in February.
It also amended the Employment Rights Act 1996 to create a power for the health secretary to make regulations to prevent NHS organisations from discriminating against job applicants because of previous whistleblowing disclosures.
The DH said it intends to exercise this power and consult on new regulations soon with the intention to having them in place by the autumn.
The new regulations will cover HEE, NHS England, clinical commissioning groups, the Care Quality Commission, NHS Improvement, NHS trusts and foundation trusts, NICE and the Health and Social Care Information Centre.
In a speech last month on patient safety, Jeremy Hunt said it was vital whistleblowers were given protection "wherever they are in the NHS", adding: "If we discover that there are any gaps in the law protecting whistleblowers, we will act to close them."
It has long been suspected by whistleblowers that the NHS employment records system is used by employers to flag whistleblowers, which can lead to many never being able to return to work in the health service.
New rules planned to prevent 'blacklisting' of NHS whistleblowers
1

Currently reading

New rules planned to prevent 'blacklisting' of NHS whistleblowers

2