Safe staffing document published for urgent and emergency care
Guidance reiterates previous advice to use staffing tools, professional judgement and data on care outcomes
It does not set specific ratios, in contrast to leaked NICE safe staffing review from 2015
The latest draft safe staffing guidance from NHS Improvement has said there is no evidence for setting specific ratios of staff in urgent and emergency care settings.
This contrasts with completed work by the National Institute for Health and Care Excellence in 2015, which recommend specific ratios of staff. This work was never published after the Department of Health and NHS England suspended the contract with NICE.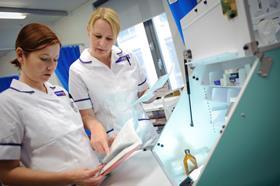 The document, including the recommended ratios, was leaked to HSJ last year.
However, NHSI's safe staffing advice on emergency care, developed by a committee chaired by national urgent and emergency care director Dame Pauline Philip, said: "This resource considers the nuances of local [urgent and emergency care] settings and the need for flexible multiprofessional workforce solutions.
"Although it includes principles for safe and effective staffing it does not set staffing ratios – there is no evidence base to support a specific ratio; instead staffing requirements should be decided using patient acuity and dependency data alongside throughput, and the skills and experience of the wider multiprofessional team."
It added that the only exception was staffing levels for resuscitation areas in accident and emergency, which was subject of guidance published by the Faculty of Intensive Care Medicine and the Intensive Care Society in 2015 that recommend 1:1 or 1:2 nurse to patient ratios.
The leaked NICE document said all type one A&E departments should provide, as a minimum:
one registered nurse to one cubicle in triage;
one registered nurse to four cubicles in majors;
one registered nurse to two cubicles in resuscitation;
two registered nurses to one major trauma patient;
two registered nurses to one cardiac arrest patient; and
one registered nurse to one priority ambulance patient.
The NICE document was produced by a committee of experts working in A&E departments. It said: "Minimum ratios for areas of the A&E department and registered nurse to patient ratios for particular situations are recommended in this guideline based on the evidence available and the safe staffing advisory committee's knowledge and experience."
The new NHSI document defined the "nursing establishment" as including registered nurses as well as healthcare assistants, but said staffing calculations must distinguish between HCAs and nurses. It added: "In the future you should consider the impact of the nursing associate role in urgent and emergency care departments" – but did not say how these should be accounted for in the overall establishment.
In line with other NHSI safe staffing documents, it recommends using staffing tools alongside professional judgement and measurement against key indicators of care quality.
It also highlights the need for flexible working to help retain nursing staff and underlines NHSI's policies on minimising the use of agencies.
The regulator has also published safe staffing guidance for children and young people's wards and neonatal care.
Sir Robert Francis QC recommended work be carried out to determine evidence based levels for safe staffing following the Mid Staffordshire public inquiry. At last year's Patient Safety Congress, Sir Robert said he did not consider the NHSI documents to meet his recommendation.
Ruth May, director of nursing at NHSI, said: "When patients present with urgent and emergency care needs it is important that hospitals have the right staff, with the right skills, at the right time to ensure that they can respond quickly and effectively. We recognise the workforce challenges in the NHS, this resource importantly recommends ways in which trusts can support their teams to be flexible and ensure are there to care for patients.
"We have worked hard to develop these draft resources, by building on existing evidence and taking the advice of clinicians, academics and stakeholders.
"We are now actively seeking the support and input from NHS staff, patients, managers and the public to help us enhance these improvement resources and let us know how this resource can better serve services in the NHS."