Provider sector lost £65m of activity during strike days
Emergency department performance improved on full walkout days
NHS Improvement says it cannot be certain there were no clinical incidents for several weeks
Strike action by junior doctors cost the NHS provider sector £65m in lost in activity, NHS Improvement has said.
A report to the regulator's board meeting on Friday revealed the cost as well as the total number of operations and procedures cancelled as a result of 10 days of strike action.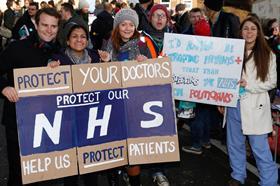 It said the total estimated cost in lost activity for providers was £65m, with £34m lost due to the full walkouts by junior doctors on 26 April and 27 April.
The report said: "The financial impact on provider income of the cancelled procedures and appointments is estimated to be £65m, £34m of this relates to the latest period of [industrial action] on 26 and 27 April. This figure is based on the 2014-15 reference cost schedule, for elective inpatient and day case procedures, and outpatient attendance."
NHSI said it was unaware of any clinical incidents during the strike days related to the action but it said it would not be certain for several weeks when information from ongoing investigations may emerge.
During the 10 strike days there were 10,754 inpatient procedures delayed; 18,724 day case operations postponed; and 112,856 outpatient appointments cancelled.
The regulator also revealed the impact on emergency departments during the full walkouts. Performance improved by 8.7 percentage points on 26 April compared with an average Tuesday in April, though providers still failed to achieve the 95 per cent waiting time target, managing to see and treat 93 per cent of patients within four hours.
On 27 April, performance improved by 9 percentage points against the average Wednesday in April, with the NHS achieving a performance of 95 per cent of patients seen within four hours.
On 25 April performance was 88 per cent and on 29 April it was 93 per cent.