HEE in talks with Apollo Hospitals in India about training qualified nurses in NHS
Ian Cumming says no agreement has been reached but training would be for a fixed period
HEE and Apollo signed a memorandum of understanding in 2015
Talks between Health Education England and one of India's largest healthcare providers could see qualified nurses from the country coming to work in the NHS.
The national education and training body has confirmed it is in talks with the Apollo Hospitals to provide postgraduate training in the NHS to nurses from India for a limited period.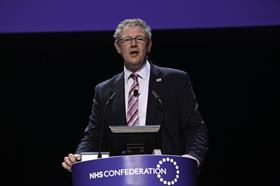 No deal has yet been agreed but HEE and Apollo already have a memorandum of understanding on sharing staff and training opportunities, which was signed in 2015 and has been used to source GPs.
HEE chief executive Professor Ian Cumming told HSJ the negotiations were at an early stage.
He said: "They are looking for registered nurses working for their organisations who are seeking to get further training in paediatrics, ITU, theatres, A&E, etcetera; and they are having a conversation with us on whether the NHS would be able to offer on the job training.
"This would be for a fixed period on an earn-learn-return basis. Maybe two years. They work as nurses to get that postgraduate experience and training in the specialities we have in this country."
Professor Cumming said it was too early to say how many nurses could come to the UK and emphasised no contract had been signed with Apollo. But he added: "They are very enthusiastic."
Any nurse who came to the UK would have to pass English language tests and meet the Nursing and Midwifery Council's requirements to be added to its register.
The initiative, if agreed, could help provide a significant number of nurses for NHS trusts struggling to recruit enough staff. Data released this month shows the number of nurses from the EU registering with NMC has decreased dramatically since the Brexit vote last June. The number of EU nurses leaving the NHS in the year to December 2016 rose by a third.
While he would not be drawn on numbers, Professor Cumming said: "I don't envisage it being single fingers.
"As a theme, it is something we would like to build on. I think it is something we put ourselves down about in this country; the NHS provides some of the best postgraduate education training for doctors in the world and we also do some pretty good training for nurses and allied health professionals.
"If there is a way that we can continue to offer that sort of training to other countries around the world, why should we not do it as long as we aren't substituting our own staff?"
Apollo started in 1983 and is one of the largest healthcare providers in India. It runs 41 hospitals with more than 7,000 beds.