NHS chief executives were led in a chant of 'we can do this' at a nationally convened meeting about the need to improve emergency performance, HSJ has been told.
Trust and commissioning leaders in systems with poor performance on emergency care were summoned at short notice to Monday's meeting.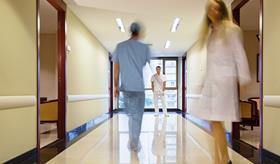 It followed the departure of two acute trust chief executives last week over sustained poor accident and emergency performance.
Health secretary Jeremy Hunt, NHS Improvement chief executive Jim Mackey and NHS England chief Simon Stevens attended the meeting.
Several sources who went to the meeting told HSJ that during a session for leaders from the Midlands and East region, a crowd of acute trust chief executives and CCG accountable officers were led in a "chant" of "we can do this" by NHS England regional director Paul Watson.
They were encouraged to chant loudly and to "take the roof off", sources said.
It is not clear whether any national leaders attended the session.
HSJ has been told by one leader at the meeting that the emphasis was not on out of hospital care or delayed transfers of care, but the need for trust leaders to tackle their consultant bodies' behaviours around decisions and activity within hospitals that were said to be contributing to poor flow and A&E performance.
One source said the event offered the gathered leaders "nothing new" to learn from – but had cost some people more than £500 in last minute train fares.
Another senior figure who attended the event said trust leaders were told to "own their problems, not externalise [them]" and to "lead from the front".
They added: "The fact the two chief executives had been sacked the week before was obviously in the minds of people who attended but was not discussed.
"I didn't get the impression that people felt very safe to express their worries about delivery this winter.
"It felt fairly civilised and constructive with a dark cloud hanging over proceedings".
They said Mr Hunt had accepted that workforce was an issue but Mr Stevens told chief executives to look at skill mix rather than just trying to boost overall headcount.
Trusts were divided into four categories based on their A&E performance:
Category one – trusts with a sustained good performance.
Category two – trusts with a reasonable performance but with room to improve.
Category three – trusts that need help.
Category four – trusts with a range of problems that "require bespoke solutions".
NHS England's regional team for the Midlands and East has been invited to comment.