Latest workforce data shows increase in senior managers and managers in trusts and CCGs
Levels have returned to those last seen before implementation of the Health and Social Care Act 2012
MIP chief executive Jon Restell says the data shows a "correction" after "overzealous cuts" in 2013
The number of senior managers working in NHS trusts and clinical commissioning groups has increased by more than a quarter since 2013 – and is now higher than before the reforms introduced by Andrew Lansley.
The latest workforce data from NHS Digital shows overall the number of senior managers increased by 25 per cent between April 2013 – when the Health and Social Care Act 2012 took effect – and October 2017. This meant a rise of more than 2,000 full time equivalent employees.
Other staff described as managers increased by almost 4,000 between April 2013 and October 2017 – growth of 22 per cent.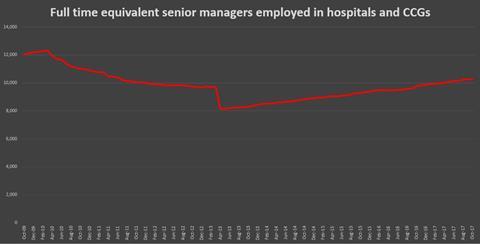 Despite the growth since 2013, the total number of managers and senior managers employed by acute, community and mental health hospitals and CCGs is still lower than their recorded peak in 2010. Senior managers are down by 12 per cent and managers down by 14 per cent compared to 2010 levels – a total drop of more than 5,000 employees.
Jon Restell, chief executive of the Managers in Partnership union, said the figures could be showing "a correction" in response to the "overzealous cuts" to management because of the Health Act. In 2013, the government estimated the act would help reduce NHS bureaucracy and result in 13,000 redundancies.
Mr Restell said: "We kind of knew the system as a whole had overdone the slimming down and this looks like a correction.
"We need a more considered view as to what managers are there for and what they are trying to do.
"There is a need for a certain amount of management, whether we are looking at quality and safety or whether its performance or finance. The system is now working with far fewer managers [than in 2010] who are still delivering what they can in much tougher circumstances."
Since the reforms came into effect, the number of clerical and administrative staff, which is a separate group to managers, has increased significantly. From April 2013 to October 2017, numbers increased by almost 12 per cent, or 9,800 staff.
Staff designated as working in central functions for hospitals and CCGs has grown by 11 per cent, or 8,300 employees, since April 2013.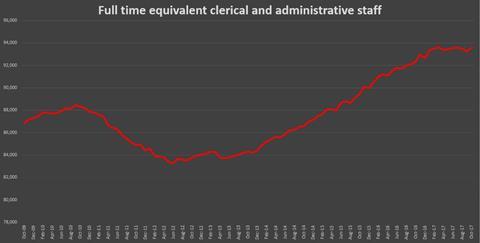 Nigel Edwards, chief executive of the Nuffield Trust, said the raw numbers did not reveal what the greater number of managers employed since 2013 were doing.
He said: "We've managed to bring together the worst parts of a market system with the burdensome bureaucracy of performance management. We have an alphabet soup of new structures and five year forward views of every taste and flavour.
"The system now requires a lot more activity collection effort, as well as reporting it and explaining it. That doesn't necessarily produce more management but it does require more managers.
"It's not surprising manager numbers have gone back up again but the question we want to ask is not are there more or less managers, but is what they are doing adding more value? People don't employ managers for no reason."
NHS Digital data showing the number of senior managers and managers employed by central bodies such as NHS England and NHS Improvement show their numbers jumped between September 2012 and September 2013, but fell by 751 and 445 respectively between September 2013 and September 2017, which is the latest month with available data.
Since 2009, the number of senior managers (shown in the graph below) and managers employed by central bodies has grown by 330 and 2,127 respectively.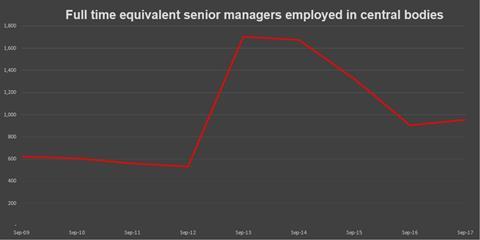 NHS manager numbers return to pre-Lansley reform levels
1

Currently reading

NHS manager numbers return to pre-Lansley reform levels

2