Jeremy Hunt has told MPs the cap on pay rises for NHS staff has been scrapped but any change would be tied to a deal on productivity.
The health secretary said today the policy of pay restraint in the NHS since 2010 was necessary to allow the service to recruit thousands of additional doctors and nurses, but he accepted the pay cap could not continue indefinitely.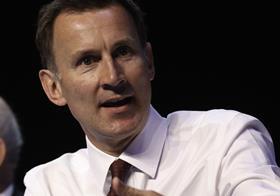 Mr Hunt told the House of Commons: "Without pay restraint we wouldn't have 11,300 more nurses on our wards. We recognise it wasn't sustainable to carry on with the 1 per cent going forward and that's why next year we have been given the leeway to have more flexible negotiations."
After a follow up question pressing him on the cap, Mr Hunt reiterated: "The pay cap has been scrapped."
Warrington North MP Helen Jones asked Mr Hunt whether a rise would be funded by cuts in services. Mr Hunt said: "That is something I can't answer right now because the latitude the chancellor has given me in negotiating future pay rises is partly linked to productivity improvements that we will negotiate at the same time. The fact is we do have that flexibility and I hope we can get a win win."
Mr Hunt revealed earlier this year he was lobbying the prime minister and chancellor for an end to the pay cap amid concern that it was pushing staff to leave the NHS and exacerbating difficulties in recruitment.
The decision to scrap the pay cap follows the disastrous election result for the Conservatives and is a significant U-turn from its position in 2015, when George Osborne outlined a policy to limit public sector pay rises to 1 per cent until 2020.
According to the 2016 staff survey, just 37 per cent of staff in NHS trusts were satisfied with their level of pay. However, a recent survey of staff leaving the Nursing and Midwifery Council register showed 44 per cent highlighted workload and other pressures as reasons for leaving. Pay accounted for just 16 per cent.
Jonathan Ashworth, Labour's shadow health secretary, said: "The Secretary of State tells the Commons the NHS pay cap's been lifted but he cannot say whether this is going to come from existing budgets or not. It looks like hospitals will be forced to cut other services to find the funds.
"There has still been no confirmation of any of this from the Treasury. The government immediately need to confirm that extra funding will be provided to lift the NHS pay cap so that all staff can now get the pay rise that is long overdue."
More funding needed to lift pay cap, warn Stevens and Mackey
1

2

Currently reading

NHS pay rises will be 'linked to productivity', says Jeremy Hunt

3