NHS leaders have been told to consider how to reduce management costs without compromising services, after an HSJ analysis revealed a strong link between quality scores and increases in manager numbers.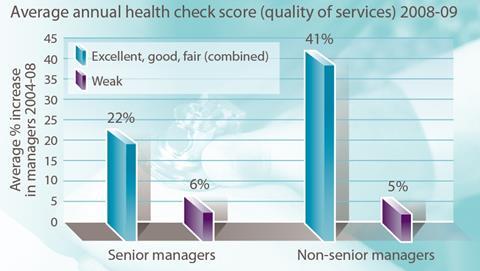 NHS quality strongly linked to increases in managers
HSJ has found that increases in the number of non-senior managers employed by trusts rated excellent for service quality are nearly 10 times as high as those with weak scores.
-4 - Change in number of managerial jobs at the average weak rated trust from 2004-08

+12 - Change in number of managerial jobs at the average excellent rated trust from 2004-08
The data highlights the challenge facing trusts aiming to improve the quality of services over the coming years as NHS spending growth slows dramatically and management budgets are cut.
HSJ's findings show that from 2004-08, the number of senior managers grew by an average of 6 per cent and all other managers by 5 per cent in trusts rated weak in the last annual health check, compared with 24 per cent and 46 per cent in those rated excellent.
For excellent, good and fair scores combined, average figures were 22 per cent for senior managers and 41 per cent for non-senior managers.
The average weak trust shed four managerial jobs, while those rated excellent gained 12 managers.
Managers in Partnership chief executive Jon Restell said of HSJ's analysis: "It helps break down the 'any is too many' in the debate around NHS management, which is quite powerful."
Managers needed to be more "forceful about finding the evidence that supports their role", he said. This could potentially identify trusts that are undermanaged as well as those with higher than average management costs.
Mr Restell said: "We need to consider if we lose managers what are the implications for quality?"
Shadow health secretary Andrew Lansley has repeatedly criticised "NHS bureaucracy" and pledged to transfer £1.5bn a year from the back office to frontline services if the Conservatives come to power later this year.
The 2010-11 operating framework also instructed primary care trusts and strategic health authorities - not included in HSJ's analysis - to reduce management costs by 30 per cent. A foreword by NHS chief executive Sir David Nicholson challenges "all organisations to reduce overheads and management costs".
Birmingham University professor of health policy and management Chris Ham said the impending spending squeeze will create opportunities to ensure management resources are being used effectively.
Professor Ham, set to become King's Fund chief executive in April, said many extra managers have been employed in recent years to "tick boxes" due to an "explosion in regulation".
But NHS Confederation director of policy Nigel Edwards said he did not believe this explained the link between manager increases and higher quality scores.
He said: "We have to believe that better management produces better services. People might have come in and made things better.
"There are all sorts of reasons to invest in management. It might not just be about trying to hit performance ratings," he said.
HSJ based its analysis on NHS Information Centre figures setting out the numbers of managers in each year from 2004-08. They were released after a parliamentary question by Liberal Democrat health spokesman Norman Lamb.
Overall, the number of managers increased from 16,084 to 17,669. The rise was predominantly among non-senior managers, as the number of senior managers dropped by 21.
The average trust saw no difference in the number of senior managers but employed eight extra non-senior managers by 2008.
Management consultant and former strategic health authority chief executive Neil Goodwin said: "It seems obvious that managers have played a crucial part in positive ratings and I don't believe they could have been achieved without the contribution and leadership of managers."
He advised trusts having to make redundancies to continue investing in their remaining managerial workforce.
He said: "At times of challenge there's an argument for sustained investment in personal and team development, because that will help people retain focus and assess the options they have to deal with as the recession bites."
Leaders must resist the temptation to micromanage, as trusting staff would "help generate a positive organisational culture."
The analysis is based on all 191 provider trusts for which data was available for each year from 2004-08.
A Care Quality Commission spokeswoman said factors influencing quality of care were complex and varied from trust to trust. She added: "Our assessments show that strong leadership and management is crucial to the provision of high quality care. It's important for NHS organisations to get this right."
How to improve quality amid cuts
Incoming King's Fund chief executive Professor Ham, who is at currently Birmingham University professor of health policy and management, said tightening finances meant the health service needed to strip out its administration costs while continuing to invest in better management.
Professor Ham said: "We probably have an NHS at the moment that's overadministered and undermanaged. We need to continue to make big investments in management at all levels."
Leaders needed to change organisational cultures to ensure all levels of the workforce were focused on quality and safety.
"We can do a lot to improve quality even if we're having to take out management costs, for example better use of information, doctors and nurses involved in leadership roles, investing in staff training and development," he said. "In the best performing organisations in the world, such as Kaiser Permanente, experienced managers work in partnership with clinical leaders and that's not the case in most parts of the NHS."
NHS quality strongly linked to increases in managers
1

Currently reading

NHS quality strongly linked to increases in managers

2