NHS Providers chief says health service wages are "uncompetitive"
Chris Hopson warns trusts are "seriously worried" about retaining vital staff if pay restraint continues
Survey shows concerns about retention of staff at all levels
Trusts deserve great credit for driving down deficits, Mr Hopson says
Staff in lower pay bands are leaving the NHS to stack supermarket shelves and work in care homes because the service is keeping wages down despite private sector salary increases, a senior figure has warned.
NHS Providers chief executive Chris Hopson, who has made numerous warnings about the NHS's finances, told HSJ a "consistent story is starting to emerge that [because of pay restraint] NHS pay is now starting to become uncompetitive in certain areas". He said it was adding to the health service's problems with hiring and retaining staff.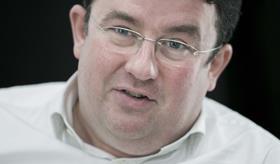 Mr Hopson also stressed there was much to celebrate in recent efforts to drive down provider deficits. Trusts had proved they could deliver on "sensible plans" but he repeated his plea for ministers to be more "realistic" about what could be delivered inside the current funding settlement and said years of pay restraint presented a clear challenge.
He said trust chief executives were asking themselves: "How do I provide the right of quality of care without enough people and without adequate sums of money?"
He added that increases to care workers' wages following the introduction of the living wage meant employees the NHS had traditionally been able to retain were switching to care work.
A medium sized provider in southern England, which Mr Hopson declined to name, had told him "lower banded staff were going off to stack shelves in Sainsbury's because they could get [better pay] that way".
He added: "It's another 'rock and hard place' [situation]. The NHS cannot afford to give [pay increases of] more than 1 per cent. That is what all of the assumptions are based on…
"But what we can absolutely see now, what is emerging is the hard place, which is that if we try and maintain that 1 per cent to the end of the parliament, we are seriously worried that we will not be able to maintain the staff we need or recruit new ones."
He also said keeping the provider sector deficit under £1bn in 2016-17, despite an initial £580m "control total" for the sector set by NHS Improvement, would be "an extraordinary achievement".
NHS Providers' trust chief executives and chairs survey, published today, found "rising concern over the growing NHS 'workforce gap'". NHS Providers said the survey "reveals a range of growing concerns over how services for patients and service users can be sustained at current levels".
Keys findings include:
Only one in four trust leaders (27 per cent of respondents) are confident they have the right staff numbers, quality and skill mix to deliver high quality healthcare for patients and service users. Only 22 per cent are confident about having the right staffing levels in six months.
Almost half of chairs and chief executives think their trusts' financial position will deteriorate in the next six months.
The report also cites examples of "where trusts are improving the quality of care and increasing productivity".
It says: "The report demonstrates that despite rising challenges, trusts deliver when they have an achievable task and are given appropriate support and funding, including: successfully treating a record number of patients; on track to reduce last year's record £2.45bn deficit to £669m; cut agency spending by a quarter and realise £3.2bn cost improvement gains this year – £346m (12 per cent) more than last year."
The survey had 172 chairs and chief executives respond from 136 of the 238 hospital, mental health, community and ambulance trusts.