The percentage of NHS staff reporting that they are working extra hours has reached a five year high according to the NHS staff survey results published on Tuesday.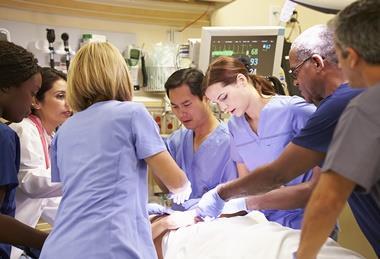 The results of the 2015 poll, carried out from September to December, show working extra hours has reached a peak. Almost three quarters of NHS staff, 73 per cent, said they work extra hours, up from its lowest level of 64 per cent in 2011.
Sixty-eight per cent said they did not work any paid overtime above their contracted weekly hours, but only 40 per cent of staff said they did not work any unpaid overtime each week.
Almost half of NHS staff disagreed or strongly disagreed that there were enough staff at their organisation for them to do their job properly, while 31 per cent said they were unable to meet conflicting demands on their time.
The percentage of staff seeing potentially harmful errors, near misses or incidents in the last month was at its lowest level for five years at 29 per cent compared with 33 per cent in 2011.
However, the percentage of staff reporting potentially harmful errors and near misses has consistently fallen over the past five years to its lowest point in five years from 96 per cent in 2011 to 86 per cent.
When asked whether staff reporting near misses and incidents were treated fairly, 24 per cent agreed this was the case and 37 per cent disagreed.
After incidents were reported, only 23 per cent of staff felt action was taken to prevent the error happening again. In addition, only 19 per cent of staff reported that feedback was given by organisation to staff about any changes that had been made in response to the reported error or incident.
The percentage of staff experiencing discrimination at work in the last 12 months was 11 per cent, down 1 per cent on 2014.
A quarter of staff reported experiencing harassment, bullying or abuse from colleagues in the last 12 months, an increase of 1 per cent from 2014. However, the survey also revealed significant under-reporting, with the number of staff reporting the most recent incident of bullying dropping by 3 per cent to 38 per cent.
Other findings include:
The percentage of staff satisfied with their pay was 37 per cent, up from 33 per cent in 2014.
A total of 86 per cent of staff reported having an appraisal in the last 12 months.
Fifty per cent of staff were satisfied with the flexible working opportunities provided by their organisation.
The overall staff engagement score has increased since 2011 reaching a peak of 3.78, with 58 per cent of staff reporting they often or always look forward to going to work.
Staff recommendation of their organisation as a place to work or receive treatment has increased since 2014, in line with the trend since 2011. The highest scores were achieved by specialist trusts compare with the lowest score by staff at ambulance trusts.
Mapped: Staff survey engagement scores
1

2

3

4

5

6

Currently reading

NHS staff survey: more staff working extra hours