Letter from chief nurses warns trusts not to describe unqualified care staff as "nurses"
Trusts told to check staff are properly described and job adverts are accurate
Letter follows research showing hundreds of care staff with job titles such as "advanced nurse"
England's most senior nurses have instructed NHS trusts to check whether they are employing unqualified care staff with job titles describing them as "nurses", HSJ has learned.
The letter from NHS Improvement executive nursing director Ruth May and NHS England chief nursing officer Jane Cummings also warned trusts to be sure they were not advertising roles for care staff where they were described as nurses or as having advanced skills despite not being on the Nursing and Midwifery Council's register or having advanced training.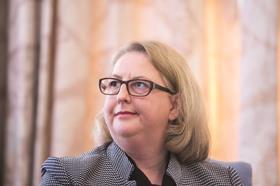 The letter, dated 7 September and shared with HSJ, follows research by Professor Alison Leary from South Bank University that found hundreds such roles in the NHS – causing concern that patients were being misled and staff could be working beyond their competence.
The letter said: "We do accept that this issue is not occurring as a deliberate act of deception. However, our preferred position is that only a [registered nurse] should have the word 'nurse' in their job title or in their job description."
Ms May and Professor Cummings said trusts should "ensure that all staff titles recognised as delivering nursing or midwifery care clearly reflect their registered/regulated status and consider whether if the word 'nurse' is used that this is appropriate".
They also said providers should make sure they have processes in place to check "how such roles are advertised in relation to identifying their registered/regulated status, aligned qualifications and the boundaries of the roles".
Professor Leary's research also revealed the lack of a clear framework for qualified nurses working in specialist services. The research identified 595 different job titles in use with no clear link between the title and the education level or experience of the staff member.
The letter said "further discussion" was required to look at the job titles being used and their link with qualifications.
Professor Leary told HSJ that she welcomed the letter as a positive step to improving patient safety.
She said the basis for not regulating advanced practice was a report by the Council for Healthcare Regulatory Excellence in 2009, which said advanced practice reflected career development and was "appropriately governed by mechanisms other than additional statutory regulation".
Professor Leary said: "Clearly that assumption is unsound for two reasons. There appears to be no association between levels of practice and education levels, and there is no relationship between levels of practice and job titles with unregistered nurses using descriptors that infer advanced practice skills. This group are currently unregulated.
"Although Health Education England is doing a lot of work on this in terms of an advanced practice framework, this will only apply to NHS employers and will presumably be guidance. The only way to protect the public is to regulate advanced practice."
In the US, nursing bodies regulate the use of protected titles and specialist education, while in Australia, nursing titles are protected by law. In the UK, the title of registered nurse is protected but "nurse" is not.
Other roles such as paramedic, radiographer, occupational therapist and hearing aid dispenser are all protected titles.
HSJ asked the Department of Health whether it would support regulation of advanced nursing and if it would be prepared to protect the title nurse but it declined to comment.
HSJ asked NHS England what view Professor Cummings had of suggestions advanced nursing should be regulated. It said: "The letter is our joint response to the study, we have nothing further to add."