Essential insight into NHS matters in the North West of England, with a particular focus on the devolution project in Greater Manchester. Contact me in confidence here.
The NHS staff survey, published earlier this month, does not get the media attention it deserves.
Its regularity and anonymity doesn't lend itself to attractive headlines, but it's one of the best indicators of how well an organisation is functioning and what the quality of services are likely to be as a result.
This week's newsletter takes a look at the 2017 survey results for trusts in the North West – looking at the key rating for "staff recommending the organisation as a place to work or receive treatment".
Results that stick out include St Helen's and Knowsley Teaching Hospitals Trust, which was already way out in front and still managed to improve its score last year.
East Lancashire Hospitals Trust and University Hospitals of Morecambe Bay Foundation Trust also feature near the top of the list, despite having both spent time in special measures in the last five years.
Pennine Acute Hospitals Trust and North Cumbria University Hospitals Trust have still reported some of the worst scores in the region but improved significantly on 2016. Alder Hey Children's FT and North West Boroughs Healthcare FT have also seen big improvements.
The scores are more worrying for Lancashire Care FT and Bridgewater Community Healthcare FT, which both saw their headline scores drop significantly and are now among the worst in England within the sectors. The score for Lancashire Care, which is currently rated "good" by the Care Quality Commission, has dropped significantly in two successive years.
Salford Royal FT, rated outstanding by the CQC, will also be disappointed with two successive reductions.
The tables below show trusts' performance broken down by sector. The scores in the tables are an aggregate for the organsiations' scores against the following questions: care of patients/service users is my organisation's top priority; my organisation acts on concerns raised by patients/service users; I would recommend my organisation as a place to work; and if a friend or relative needed treatment, I would be happy with the standard of care provided by this organisation.
Key:

Acute and community trusts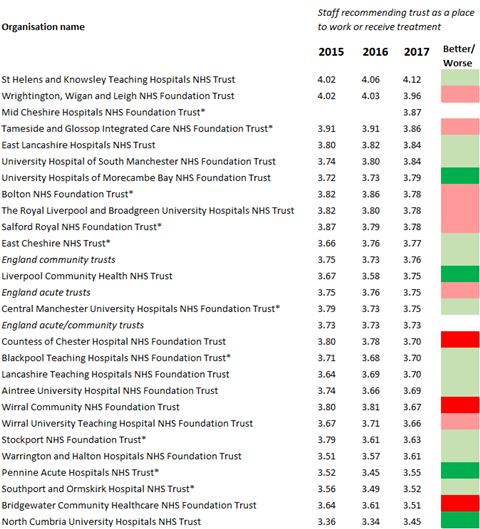 *These trusts provide acute and community services
The acute and community sectors are listed together because the average scores for each variation of service provision (acute, combined acute and community, and community) are similar. The average scores for mental health and ambulance trusts are significantly lower, while those for specialists are significantly higher.
A spokeswoman for Bridgewater said: "Whilst there are some very pleasing aspects of feedback in the annual staff survey, we are deeply disappointed with the percentage of staff who would recommend the organisation as a place to work. We know that we have been through a lot of change and faced significant challenges in the past 18 months.
"Now we have the results we have already started to take a long hard look, in partnership with our trade unions, into what is driving this response. It is vitally important that we fully understand it and that we work to improve it in partnership".
Mental health and community trusts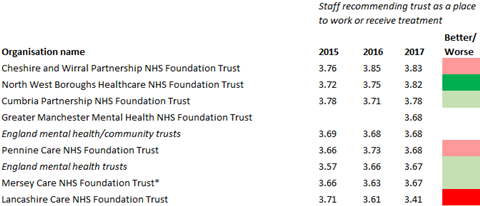 *Trust did not provide community services at the time of survey
A spokeswoman for Lancashire Care said: "We are understandably disappointed with our staff survey results… This year in particular has been challenging for our employees, we have seen very high demand for our services, changes to service provision, and the requirement to deliver more efficiencies whilst maintaining high standards of quality. This isn't easy and provides some context for the results.
"We are committed to listening and responding to the feedback that our employees have given us to make changes that are meaningful to them and that they will feel the benefit of."
Specialist trusts

Ambulance trusts