Patients have been left waiting for medications, unwashed or had vital observations delayed because hospital wards do not have enough nurses, HSJ has been told.
Nurses working in hospitals across England have shared their experiences of working on understaffed wards during the past year and revealed the risks to patient care.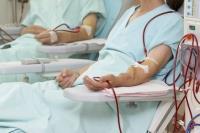 A hospital nurse working in the South West said: "I feel inadequate and ineffective when we are short-staffed. I have an overwhelming feeling of sadness that I cannot provide these vulnerable human beings with the care they need and deserve…
"The most patients I have ever had is 16 on a night shift. I know for a fact that I did not do all the observations and can only hope that I did not cause anyone any real harm."
Some nurses said they feared their registration with the Nursing and Midwifery Council was being put at risk "simply by turning up to work", while others said colleagues had to take time off because of stress or depression.
In one incident report seen by HSJ, just one nurse was left to care for 24 patients on a medical ward in 2015 after her only other colleague needed to provide one to one care.
The report said: "Only one staff nurse remained available for the other 24 patients. Eventually care to the rest of the ward [was] missed, medications were delayed or given late, and relatives were unhappy about the lack of nurses' presence/availability on the ward."
Research has highlighted the link between nurse numbers and patient safety, and the benefit of nurse to patient ratios below 1:8.
Several nurses gave examples of "one upping" or "going one up", where an extra patient bed is "squeezed" into a bay designed only for four beds.
These extra beds have no curtain call bell or access to piped oxygen, which can increase the risk of infection spreading between all patients because of how close they are to each other.
One nurse said: "These extra beds have no space and dignity around them at all. This puts all the patients in the bay at risk of catching infection as there is no buffer space between the beds. This practice has become the norm, it is impossible to fight it."
Another nurse said incident forms submitted by staff on their ward were classed as "near misses", adding: "Corners are cut and safety is compromised daily, we just do a really good job of covering it up."
A nurse at a London hospital said: "I had a shift where I was looking after 10 patients, most of whom needed assistance with activities of daily living, some who required multiple IV antibiotics. I had no healthcare assistants. I was still washing patients just before handover, as I had to prioritise medications, toileting and dressing changes over other things."
A number of nurses described colleagues and themselves suffering from stress, anxiety and depression, as well as feeling guilty when they were off work with illness.
One said: "Over the past 18 months I know of so many people who have been off with stress and depression, have been prescribed medication to help. It's deeply upsetting to witness your colleagues in tears trying to cope with an unfair and unsafe workload. There is no support for general wellbeing."
What nurses say about working on understaffed wards
"I have seen patients not have proper care, dressings not changed, not given the choice of shower or a wash as it takes more time that we do not have."
"Sometimes, observations get missed and I can recall many times where the patient is found to be deteriorating when they are eventually done. This gives you immense stress as you are left with the realisation you did not pick up on your patient's condition early enough to prevent an acute episode."
"I could give a multitude of examples of near misses in patients care when things could have or have had a detrimental effect on the outcome of a patient's stay."
"I almost can't remember the last shift I worked when I didn't see a staff member in tears."
"Skill mix was desperately unsafe for a normal shift. I felt sick to my stomach, my mind was whirring with all the possible ways I could potentially lose my [NMC] PIN number."
A student nurse: "My supernumerary status was rarely upheld because I was expected to help make up the numbers of healthcare assistants. It was a ward that drove me to go home and cry most nights because I felt the stress of my mentor and other staff members, and I also felt the frustration of patients and their relatives."
Revealed: The hospitals with the worst nurse staffing
1

2

Currently reading

Nurses reveal strain of working on understaffed wards

3