NHS Improvement says annual pay costs to increase by 3.3 per cent in 2016-17
But real terms reduction in costs against activity suggests productivity gains
Trust chief executives must sign off agency shifts of £120 per hour or more
Hospital chief executives are now expected to personally sign off agency shifts costing more than £120 an hour, NHS Improvement has confirmed.
The regulator has also said it will continue to crack down on "excessive" pay bill growth. However, it told HSJ that providers are showing signs of increased productivity and there has been a real terms reduction in activity costs.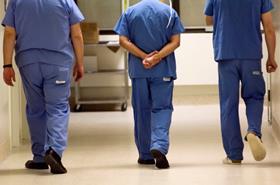 The measures are part of efforts to curtail spending as the provider sector continues to overshoot its 2016-17 year-end deficit target of £580m. The latest performance at quarter three suggested the year-end result would be a deficit of £873m.
According to the quarter three figures, year to date agency spending was £505m lower than in the same period of 2015-16, with total spending at £2.2bn. NHSI said more than two-thirds of trusts have reduced their agency spending since October 2015, after hourly caps and mandatory framework pricing were introduced, helping to reverse a trend of year on year growth.
Despite the reductions providers are still estimating that this year they will spend £418m above the spending ceilings imposed on trusts.
To drive more savings, trust chief executives have been asked to personally sign off agency shifts costing more than £120 an hour. This step began at trusts spending above their agency ceiling but has been extended to all trusts and included in weekly reporting to NHSI.
The regulator was criticised last year for naming 63 NHS trusts for overspending on pay as part of the financial "reset" last July but the regulator is continuing to press the issue. Annual growth in pay could be as high as 3.3 per cent in 2016-17 due to increased recruitment of staff, especially during winter.
NHSI said: "A review of pay growth by NHS Improvement at the start of the year showed that a number of providers' pay growth was in excess of inflation and pension effect. We continue to work with any organisations where planned expenditure looked excessive. This work is being supported by our efficiency team through a range of benchmarks and metrics."
However, alongside this growth in pay costs, NHSI said it was beginning to see improvement in productivity as it has recorded a reduction in real terms pay costs "per weighted activity unit". The regulator said this indicated "that the workforce in the provider sector has become more productive and/or the average cost per employee has reduced in 2016-17".
HSJ understands NHS Improvement divided pay costs for 2015-16 by the activity delivered, which was then given a weighting according to cost to allow the regulator to aggregate different types of provider services.
This meant the pay inflation assumptions within the tariff for 2016-17 were 3.3 per cent and NHSI is currently forecasting that the increase in pay costs over the year for the sector will be 3.3 per cent. In real terms, discounting the impact of inflation, this means pay costs have remained flat. But as the NHS is delivering more activity in 2016-17 than in the previous financial year this means the cost per unit has dropped.
Pay crackdown: Trust chiefs to sign off all agency shifts above £120
1

Currently reading

Pay crackdown: Trust chiefs to sign off all agency shifts above £120

2