Nottingham University Hospitals Trust chief says heroic leaders are "redundant"
Peter Homa said the share of GDP funding for the NHS needed to rise
He urged new leaders to be transparent and to ask for help when needed
Peter Homa would have stayed on as chief executive of Nottingham University Hospitals Trust if its failed merger with Sherwood Forest Hospitals FT had gone ahead, he has disclosed. 
The widely respected chief executive announced his retirement last month. In a wide-ranging interview with HSJ he revealed he would have stayed for another two years if the merger, abandoned earlier this year, had been success. However, in a wide-ranging interview, Mr Homa said his ultimate decision to step down was driven by a desire to spend more time with friends and family.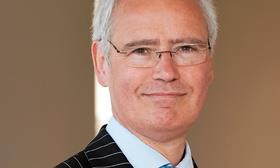 Mr Homa also told HSJ he believed there was an important choice facing voters and politicians at the next general election over how much of the nation's gross domestic product should be dedicated to the NHS. He said his view was that the share of GDP needed to rise to bring the UK back in line with other major developed nations. He described the financial challenge facing the NHS as worse than at any time in his career.
Reflecting on leadership in the NHS Mr Homa said: "The notion of a single heroic leader is redundant." He said organisations were led by a group of people. "The job of a leader is to serve his or her staff and in many ways be the conductor of an orchestra rather than a soloist," he said.
More needed to be done to support newly appointed chief executives who he said needed to know that asking for help was "a strength not a weakness".
It was vital leaders responded to problems in the right way, he warned, saying: "When things do go wrong, cooly work out how you are going to manage today as a past condition of the future we want to create. I have confronted quite a few challenges and that frame of mind can be very helpful and liberating. You have to describe a far better place for patients and staff and the job of the board and the leadership is to make sure you get there."
Mr Homa has been chief executive at Nottingham University Hospitals Trust for a decade and has worked in the NHS for 35 years. He was the first chief executive of the Commission for Health Improvement – a forerunner to the Care Quality Commission.
Speaking about his retirement, Mr Homa said: "If the Sherwood Forest project had progressed I would have stayed for another two years to do my very best to support the new enterprise. I wouldn't have left this year, but it is a very timely opportunity both for me to step down and someone else to take on NUH.
"It's more challenging for Nottingham and the wider NHS than any previous time in the NHS's history and the solution is making sure we have a systematic approach to caring for patients before they become emergency patients. That can only be achieved by ever closer working between the constituent parts within health and local government. I am a very strong supporter of integration."
On NHS finances he said there was "a very important choice for the government and the public" at the next election "and that is how much of the GDP does the electorate want to put into health? My own view is that there needs to be a significant increase in the GDP share because we know it has gone down compared to other developed economies in Europe and we are beginning to see the stresses and strains as a consequence of that."
Mr Homa described being an NHS chief executive as a "privilege" adding: "I recognise it is a very tough time for those colleagues joining the leadership cadre who have no or limited experience and I think it's hugely important that the more experienced colleagues do everything they can to provide help and support. I am optimistic for the NHS, subject to funding issues getting resolved, because of the devotion and dedication of staff."
He said the toughest time of his career was as a newly appointed chief executive at Leicester Royal Infirmary where he struggled to ask for help from others.
"Too many chief executives spend far too little time at their organisations, their tenure is far too short. Chief executives can contribute much more once they get to know staff. The key currency is trust, if staff trust the leadership and the leadership know they can depend on the staff then everything is possible. If that currency of trust isn't present, then there is very little of value that can be achieved. And trust is only generated by the heat and burden of everyday work."
Mr Homa, who became a CBE in 2000 for services to the NHS, said he was proud of his work to establish the Commission for Health Improvement and said he believed the CQC was now doing a "really good job of reinventing itself and is a much more evidence based approach than some of the previous regimes and that is very welcome."
He said boards got out of inspections what they put in saying: "Our job as a board is to listen carefully to the feedback and work out how we can do things better as opposed to being defensive and taking a protective approach."
However, he said there needed to be a "rationalisation" of information providers were asked to provide to regulators, to reduce transaction costs.
On the culture of the NHS Mr Homa said there needed to be more consistency for staff to raise concerns adding: "As NHS organisations become ever more stressed financially it does place very considerable pressure on staff and on boards and ultimately it is the board that is responsible for making these exquisitely difficult decisions about how to best use money and the key thing is not to regard quality and money as opposites."