NHS England says health service will need more qualified nurses by 2020
NHS will launch fast track two year training programme and focus on retention
Health Education England to publish workforce plan in April
NHS England has said the health service will need more registered nurses by 2020 and has announced a series of reforms to try to increase numbers.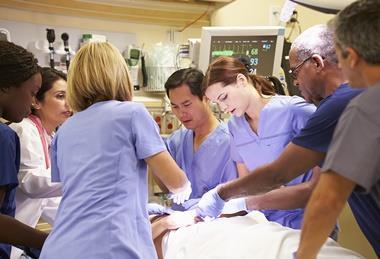 The national body has also set out ambitions to boost key clinical workforce numbers as part of its Five Year Forward View delivery plan, published today.
There was an emphasis on boosting the number of registered nurses, with proposals including fast track training schemes and a focus on recruitment, retention and training of senior nurses to potentially replace medical locums.
It also includes plans to develop flexible working contracts and "passports" for staff to allow them to work across organisational boundaries within a region.
The document said: "The NHS in 2020 is going to be looking after more patients, better funded and larger than the NHS of today. We are therefore going to need to continue to improve productivity and grow our frontline workforce, especially in priority areas such as nursing, mental health, urgent and primary care.
"Achieving this will require more training, more recruitment, better retention and greater return to practice after time out of the workforce. The NHS will need more registered nurses in 2020 than today, as will the social care system."
The delivery plan appears to be at odds with some sustainability and transformation plans, which have advocated reducing the number of qualified nurses and replacing them with generic support workers, to deliver millions of pounds of savings.
A new two year fast track scheme would offer financial support to graduates from other disciplines to take a top-up programme to train as a graduate nurse, the plan said. This "nurse first" scheme will initially be targeted at mental health and learning disability nursing, which have both seen significant declines in recent years.
NHS Improvement and NHS Employers will also launch a new retention project targeted at the 30 trusts with the highest turnover of nursing staff. The document said if the NHS can get retention back to the level it was two years ago this would deliver 4,000 more full-time equivalent nurses each year.
The NHS will also invest in a new scheme to attract 1,500-2,000 former nurses back to the profession, building on work by Health Education England. The document estimates there are 50,000 registered nurses in England not currently working for the NHS.
Other plans include boosting the number of advanced clinical practice nurses who are educated to master's degree level with the ability to work independently and to prescribe medication. An advanced clinical practitioner framework will be published by HEE and NHS Improvement, with nurses deployed in the first instance to trusts where "they can make a demonstrable impact on high priority areas such as A&E, cancer care, elective service or reducing locum costs by converting medical posts".
The delivery plan also repeated the aim to rollout e-rostering and job planning for all workforce groups but said there will be a focus on doctors in 2017-18, concentrating on "maximising direct clinical care time, eliminating unwarranted variation in the number of patients treated per clinic and per theatre list, and reducing extra-duty payments."
The plan referenced the government's policy to increase the number of trainee doctors by 1,500 and said the number of GP trainees had increased 10 per cent year on year since 2015. HEE will aim to create an additional 231 GP training places in 2017-18 to ensure the government's ambition of 3,250 GP trainees a year until 2020 is met. The plan said GP applications for 2017-18 were up 5 per cent on last year.
On flexible working, the plan said the NHS needed to find ways of "de-risking" service change for staff.
It said: "This could take the form of an NHS staff 'passport' to enable, for example, nurses to work in both primary care and in hospital, helping support team based working. Since only 52 per cent of staff are currently satisfied with the current opportunities for flexible working, it might also mean discussing with staff side representatives and unions new options to encourage individuals who are currently choosing agency or locum work back into substantive employment. The practicability of term time contracts, seasonal hours, and annualised hours contracting will also be tested."
Other workforce measures in the plan included:
Extending emergency medicine places by 75 places for a fourth year.
An accelerated programme to train non-medical endoscopists with 160 trained by the end of 2018.
Two hundred extra sonography staff trained by 2019-20 to support maternity services.
Increasing consultant radiologist annual output from 170 to 230 by 2021-22.
HEE will publish an annual workforce plan in April.