Acute nurses in hospital sector passes 180,000 for the first time
Growth in nursing support staff outstrips registered nurse recruitment
Increased number of nurses fails to keep pace with activity demand
The number of registered nurses working in the NHS hospital sector has passed 180,000 for the first time.
Analysis of the latest NHS Digital workforce data by HSJ also shows the number of nursing support staff in the acute sector, such as healthcare assistants, has outgrown nurse recruitment by almost two to one since 2009.
Overall the number of nurses in the acute sector increased by 11,000 between May 2010 and October 2017, a 6.5 per cent increase. Over the same period, the number of nursing support staff grew by almost 20,500, or 29 per cent.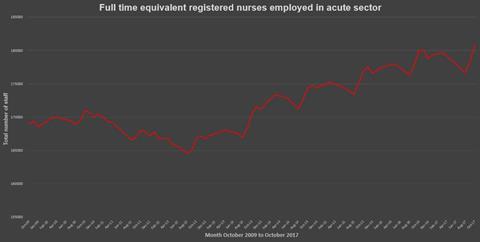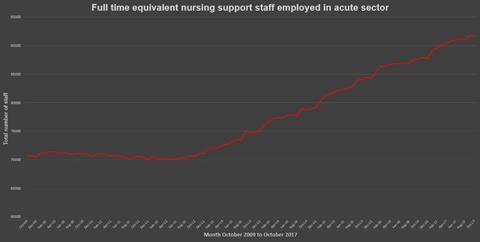 While the acute sector is continuing to benefit from the "Francis effect" of increasing nurse recruitment following Sir Robert Francis QC's 2013 report into the Mid Staffordshire scandal, the rate of growth is failing to keep pace with demand.
Analysis of the workforce data by the Nuffield Trust for HSJ shows the number of nurses per 1,000 acute admissions (excluding obstetrics) fell from 13.54 in 2010-11 to its lowest level at 12.79 in 2016-17.

Nuffield Trust chief executive Nigel Edwards said: "Chief executives can't recruit nurses. There may have been an issue in the past with the deliberate substitution of band five staff but now we can't recruit those nurses. People are saying it is better to have somebody rather than nobody. That is the situation we are in.
"Desperation is not putting it too strongly."
While acute nursing is seeing growth, other sectors such as mental health, community and learning disability services have experienced declines in employed nurses.
The number of mental health nurses dropped by 4,600 between May 2010 and October 2017, while community nurses went down by 6,100 and learning disability nurses dropped by 2,000. This could reflect the increase in some services being transferred to non-NHS providers, though it is not possible to discern from the data the extent of this impact.
Similarly, the number of health visitors employed by the NHS has been falling with a drop of over 1,000 from October 2016 to October 2017. This is eroding the large growth trend since 2010, which has been reduced to a net increase of less than 500.
From October 2015, the responsibility for commissioning health visiting transferred from NHS England to local authorities.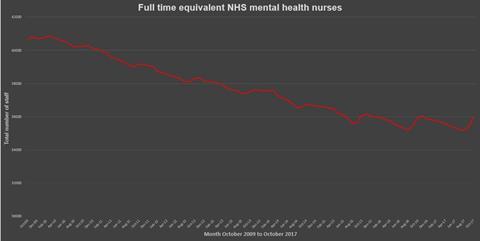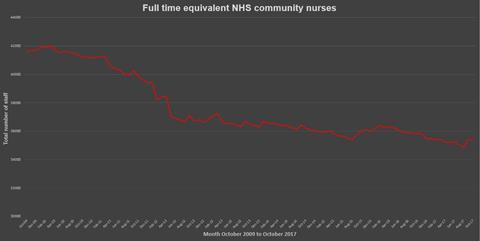 Nursing workforce expert Professor Jim Buchan from Queen Margaret University in Edinburgh said part of the growth in the acute sector had been caused by a surge in nurses from EU countries coming to the UK in recent years. He added: "One of the main questions that the analysis prompts is does the relative growth in nursing support staff represent a deliberate shift in skill mix driven by trust level decision making? Or is it a forced shift because of shortages of registered nurses? Or a bit of both?
"The thousands of EU nurses who first registered in the UK in the years leading up to mid-2017 will have been a major contributor to the relative growth in hospital based nursing; without them, the shortage driver would be more pronounced and it is likely that there would be increased reliance on nursing support staff."
Janet Davies, chief executive of the Royal College of Nursing, said while it was positive that the numbers of nurses on wards were growing, "there are still tens of thousands of vacant jobs in the acute sector at a time when demand and pressure is soaring too. We know that care is not currently of the standard that our members are happy to give and that must not be overlooked in heated exchanges of statistics."
She added that hospitals were increasingly reliant on unregistered support staff, especially at night. "Support workers are a vital part of the nursing workforce but it is not fair on them or patients when they are asked to carry out the work of registered nurses. Ministers must address these vacancies and gaps in rotas by training and hiring thousands more nurses," she said.
Medical workforce
The NHS Digital workforce data also provided the latest overview of the full time equivalent medical workforce:
Consultants have grown by 10,126 posts since 2010 with an increase between October 2016 and October 2017 of 3.4 per cent.
The number of specialist registrars has grown by 2,550 since May 2010 and were up year on year by 1.8 per cent.
Core medical trainees have increased by 2,490 since May 2010 and are up year on year by 11 per cent.
Foundation year two doctors have increased by just 385 since May 2010.
Foundation year one doctors have decreased by 20 since May 2010 and fell by 77 posts between October 2016 and October 2017, or 1.2 per cent.
NHS manager numbers return to pre-Lansley reform levels
1

2

Currently reading

Registered nurse recruitment outstripped by support staff growth