Women make up half the executive and senior manager workforce at arm's length bodies but are paid 9 per cent less than men
Senior Salaries Review Body says organisations should make performance related pay awards or explain why not
Almost half of ALB senior managers are paid more than the operational maximum for their pay band
Pay increases for senior managers at the NHS arm's length bodies should be used to reverse a widening gender pay gap, the Senior Salaries Review Body has said.
On Tuesday, the government accepted the body's recommendations on senior pay for the 360 senior managers at NHS England, NHS Improvement, the Care Quality Commission and nine other organisations.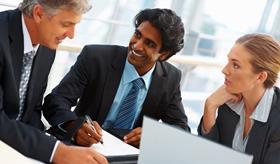 The review body said a 1 per cent increase in pay should be used in full but targeted to "make progress on addressing existing anomalies, including significant gender pay disparities and between staff with the same level of responsibility".
The SSRB said female ALB managers were paid an average of almost 9 per cent less than their male colleagues in 2016 – an increase from 7.1 per cent in 2015. This is despite the fact women make up half the executive and senior manager workforce at ALBs.
In 2016, overall pay ranged from £82,400 to £265,300. Median pay for senior ALB managers was £120,700, an increase from £120,100 in 2015. Mean pay in 2016 was £124,500.
Executive senior managers made up 1.5 per cent of the total ALB workforce in 2015-16 and accounted for 4 per cent of the pay bill. Their pay costs totalled £53m, down from £65m in 2014-15 when it was higher due to redundancy payments.
The percentage of senior managers recorded as being from an ethnic minority was just 2.8 per cent last year, however this was an increase from 1.4 per cent in 2015.
Despite a pay rise being recommended, a significant number of senior managers could lose out after the SSRB highlighted almost half of executive ALB managers are paid more than the "operational maximum" for their pay band.
It warned: "We do not expect ALBs to make a consolidated award to this particular group. The anomalies that we do expect to be addressed include making awards to those currently paid below the minimum for their grade in the new pay framework, and where there are pay differences resulting from gender or age."
The review body said: "The limited data available does not indicate any problems recruiting or retaining [executive senior managers] in ALBs. Nevertheless, this group has been subject to an extended period of pay restraint and failure to make an award averaging 1 per cent could have detrimental impacts on the motivation of ESMs covered by the SSRB when their leadership is required during a highly challenging period for the health service. Failure to use in full the limited budget increase that has been made available would itself be demotivating."
Performance related awards for senior managers are limited to 5 per cent of base salary for each manager and 5 per cent of each organisation's pay bill.
In 2016, performance awards were made to 16 senior managers. NHS England has not made any since 2013, the CQC has a policy not to pay performance awards and NHSI chose not to pay bonuses in 2016.
It said ALBs should make performance related pay awards and any organisation that did not want to should seek approval from the Department of Health.
This could be the final year that the SSRB makes recommendations on pay for the NHS's most senior managers as the government accepted recommendations that senior managers be removed from its remit while it investigates whether to include very senior managers from NHS trusts, foundation trusts and clinical commissioning groups, which are currently outside its remit.
The review body said it "makes no sense" and was not "practical or sensible" to have only a small proportion of senior NHS managers in its remit while others have their pay set without any SSRB input.
In a statement to Parliament, first secretary of state Damian Green said: "The government accepts the recommendation that the 1 per cent available for basic increases this year is used in full for executive and senior managers in the Department of Health's arm's length bodies, unless there is a strong and explicit rationale to do otherwise."
He said money allocated to performance related pay should be used for the top 25 per cent of performers and organisations that do not use the allocation should explain their rationale to the DH.
Mr Green added that ESM's would be removed from the SSRB remit while "a scoping exercise is undertaken to consider the inclusion of very senior managers in the wider NHS".
Breakdown of executive senior managers in the NHS
| Organisation | Number of ESMs (as of 1 April 2016) |
| --- | --- |
| NHS England | 167 |
| Commissioning support units | 52 |
| NHS Trust Development Authority | 30 |
| Health Education England | 28 |
| Care Quality Commission | 20 |
| Monitor | 19 |
| NHS Digital | 10 |
| NHS Blood and Transplant Authority | 9 |
| NHS Litigation Authority | 7 |
| NICE | 6 |
| Human Tissue Authority | 4 |
| NHS Business Services Authority | 4 |
| Human Fertilisation and Embryology Authority | 3 |
| Health Research Authority | 1 |
| Total | 360 |