Informal talks between Agenda for Change unions and NHS Employers agree on principles for reform
Lack of money for pay rise meant talks stalled but budget could bring new impetus
Increment reforms wanted by both sides but government 'sleight of hand' could be 'toxic' to a deal
Unions and employers have agreed 'broad principles' for reforming the terms and conditions of more than a million NHS workers, HSJ has learned.
The amendments to the Agenda for Change pay contract are on hold, pending the budget later this month. Senior sources have told HSJ if the Treasury releases funds for a "significant" pay rise for NHS staff, negotiations over reforming terms and conditions could start within months.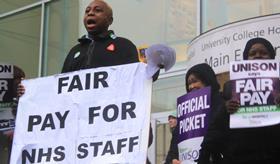 Jeremy Hunt has said he is lobbying the Treasury for more money on pay but also that the Treasury will expect "productivity" savings in exchange.
Discussions between union leaders and NHS Employers have taken place since a strike in 2014 after the government unilaterally rejected the NHS Pay Review Body's recommendations.
Outline proposals included a "refresh" of Agenda for Change with an emphasis on reforming the increment pay points and pay bands.
This will include restructuring bands 1-3 and lifting the salaries of the lowest paid staff above the living wage. Other principles that have been discussed are removing overlapping pay bands and creating larger, more consistent spacing of increment pay points. Along with changes agreed in previous talks to link increment progression to performance, this move could help trusts reduce the number of staff who get "automatic" increments.
One source said the "broad principles" were agreed upon last year, however: "We got as far as we could last year but the conversation stalled because the government couldn't commit to more than 1 per cent for pay. We never got into formal negotiations so the detail of any structural change hasn't been discussed."
A source close to the government side of negotiations said changes to weekend enhancements, unsocial hours pay and annual leave were all potential areas where ministers could demand savings in exchange for a higher pay rise and increment reforms wanted by unions and trusts.
They said the agreements were never formal or at a stage where both sides could agree on a joint proposal to the pay review body, which HSJ understands was an ambition at one stage last year.
Another source close to the talks said: "Everyone did the best they could to sketch out where we might go if we could start formal talks. But on both sides, we all knew that without any new money it was a non-starter. We are in a holding pattern to see what happens on 22 November."
A union source said: "We are expecting something from the Treasury in the budget, but the disagreements will be over all of the things we haven't yet talked about. It will be toxic if the government want to do a sleight of hand arrangement where people look at what they're getting through pay and see they will be losing the same through reductions to their terms and conditions.
"What might start out as a good deal on pay might end up being completely unpalatable when you look at the strings attached."
The pay review body is expected to start taking oral evidence in March and is not expected to report recommendations until the summer. Nevertheless, it is expected that talks could begin within months with a final deal reached in autumn 2018.
In a statement, Unison head of health and chair of the staff side Sara Gorton said: "With the NHS stretched to breaking point, it's difficult to picture the productivity wands that can be waved.
"Unless, of course, 'productivity' is merely code for giving pay awards with one hand and cutting terms with the other. This simply won't wash.
"Unions have promoted an ambitious pay reform agenda for several years, which so far the Department of Health has failed to engage with. If 'productivity' means investing in a better pay structure that's something we would be keen to talk about."
NHS Employers declined to comment.
Source
Information supplied to HSJ