England's deputy chief nursing officer Mark Radford to also be chief nurse at HEE
Will join HEE's board
Takes over from Lisa Bayliss-Pratt who is leaving after seven years
A single senior nursing officer will be appointed across three national NHS bodies for the first time, HSJ has learned.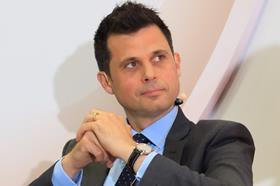 England's deputy chief nursing officer Mark Radford is to be made full-time chief nurse at Health Education England and will also join HEE's board, in a significant move that will help NHS England and Improvement bridge the work of all three organisations.
An internal message to HEE staff from chief executive Ian Cumming yesterday announced the education body's current nursing director Lisa Bayliss-Pratt is to leave her role next month after seven years.
She will be taking up the post of pro-vice chancellor at Coventry University on a six-month secondment.
The appointment of Professor Radford, who is deputy to England's chief nurse Ruth May, is an attempt to better coordinate national efforts on workforce. Workforce policy has already come under greater direction of NHSI, with its chair Baroness Dido Harding leading development of a national workforce plan. HEE remains a separate statutory body.
Ms May told HSJ: "Mark is currently the national workforce lead for nursing. He has been the driving force behind the national retention programme which continues to deliver improvements across England. But this is just a taste of the impact I believe he can make to workforce from this new role.
"We still have a great deal to do to reach ambitions laid out in the long-term plan and the interim people plan and I can't think of a safer pair of hands to deliver this work for HEE. In the spirit of continued cooperation and joint working across [arm's-length bodies], Mark will also remain deputy chief nursing officer to ensure that the links and delivery across England are optimised."
Mr Cumming's message to staff praised Ms Bayliss-Pratt for her role in the introduction of the new nursing associate role and the Shape of Caring Review chaired by Lord Willis of Knaresborough.
He added: "Given the prominence of the nursing workforce challenge, it is vital that HEE is not without the leadership of a chief nurse, so I am delighted to announce that Professor Mark Radford, currently deputy chief nursing officer for NHS England and NHS Improvement, will be joining HEE on secondment as our chief nurse.
"Mark has played a prominent role in the development of the interim NHS people plan and ongoing work to develop the full people plan, working across NHS England, NHS Improvement and HEE, so is well placed to lead our contribution to tackling the workforce challenge over the coming months."
Professor Radford was previously chief nursing officer at University Hospitals Coventry and Warwickshire Trust. He has worked as a consultant nurse in emergency and trauma care and is professor of nursing at Birmingham City and Coventry Universities.
Updated 5 September: Amended to state that workforce policy has come under greater direction from NHSI, rather than HEE specifically.
Source
Leaked internal message
Source Date
September 2019