Royal colleges criticise NHS Improvement chief executive for saying some standards are only "aspirational"
Safe staffing experts say Jim Mackey contradicted clinical evidence based guidelines
One college president says NHS trusts should reject "shabby suggestion" and speak out on funding crisis
Royal colleges and workforce experts have severely criticised NHS Improvement chief executive Jim Mackey for his "extraordinary" comments on NHS staffing levels and service standards.
In an interview with HSJ on Wednesday, ahead of the expected NHS financial "reset" in the coming days, Mr Mackey said 30-40 NHS trusts may have over-recruited staff in recent years and some royal college standards were "unmatchable", adding: "They're aspirations."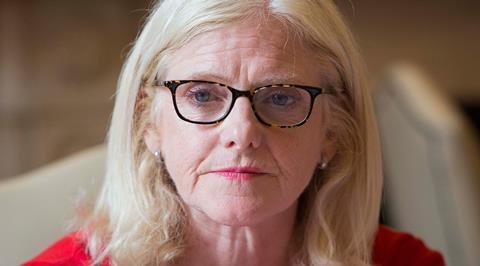 He said some organisations had gone too far in trying to meet safe staffing recommendations, including going beyond the 1:8 nurse to patient ratio. He said: "We'll be saying we can't afford that, that's not something that's justified, there's no evidence for it, it's not delivering better outcomes, we expect that to be reined back."
Colleges said their standards were evidence based guidelines essential for improving care, while safe staffing experts told HSJ Mr Mackey appeared to have misunderstood the clinical evidence on safe staffing and his message was "frightening".
Royal College of Nursing chief executive Janet Davies said: "This gives completely the wrong message to trusts, whose boards are responsible for the care, treatment and safety of their patients, by suggesting that finances are more important than patient care.
"These comments are seriously worrying and particularly disappointing as the RCN has been working in partnership with NHS Improvement on the National Quality Board safe staffing guidance refresh."
She said ignoring evidence based guidance was "foolhardy and places people at unnecessary risk".
She said going above the 1:8 ratio was an alert and in many wards would be "completely unsafe", adding: "to treat it as the optimum level is dangerous".
She said Mr Mackey's comments risked a return to the days before the 2013 Francis report.
"We mustn't repeat the mistakes of the past, when staff could not properly care for patients because of financially driven cuts. Staff, patients and their families must never again be put in that position."
Professor Neena Modi, president of the Royal College of Paediatrics and Child Health, said: "The comments by Jim Mackey are quite extraordinary. It would be good to see his justification given the current state of UK population health and patient care.
"Does he believe a 22.7 per cent neonatal rota vacancy rate is acceptable, and that nearly half of paediatric vacancy posts are filled by locums? Has he appreciated that the UK is falling progressively behind the rest of Europe in delivering high quality healthcare and good patient outcomes?
"The college wants to see patient care improve, and is shocked at the suggestion that clinical standards can be dismissed as 'aspirational'."
She added: "I suggest that rather than accept this shabby suggestion, trusts that are struggling to make ends meet join in the public debate about the appropriate level of funding for UK health services, and the organisational structures that are most cost effective."
A spokesman for the Royal College of Physicians said its standards were evidence based and aimed at achieving high quality care.
They added: "Leaving posts vacant that have been determined as necessary to provide safe, high quality care at a time when we are facing dangerous rota gaps of up to 40 per cent is a worrying message.
"The NHS is underfunded, under-doctored, and overstretched, creating serious concerns about the quality of patient care and welfare of staff."
The Royal College of Surgeons said some of its standards were "deliberately aspirational" but that others were about setting minimum requirements to ensure safe care.
A spokesman said: "We fail patients if we regard these sorts of minimum standards as optional.
"Colleges exist to raise standards of care in the NHS and to be independent of political pressures. It is right that we continue to push the NHS to advance, not stagnate."
NHS Improvement is responsible for developing new safe staffing guidance for the NHS.
Mr Mackey's comments drew criticism from safe staffing experts Professor Jane Ball and Professor Peter Griffiths, from Southampton University, who are researching nurse staffing for the Department of Health.
Professor Griffiths said: "It seems to be a clear statement that we need to reduce the number of nurses.
"The analysis behind the 1:8 figure is very much predicated on this being a level at which risk is clearly increased – by definition then, safe staffing lies at a higher level than this. So criticising trusts that go beyond this is frankly frightening and based on a profound misunderstanding of all the evidence and indeed the guidance."
He added: "It seems we may have learned nothing, or quickly forgotten, the lessons of Mid Staffs and Keogh reviews."
Professor Ball said: "The NICE guidance seems to have been misunderstood and they were quiet clear that 1:8 isn't an aspiration but a level that could indicate need for review. It is in no way considered to be the gold standard, it is an amber flag for the driver to pull over and check everything is as it should be.
"Jim Mackey's comments seem to very much contradict current clinical evidence-based guidance."
She said it was disappointing NHS Improvement did not have a clear understanding of how well or poorly staffed some trusts were.
She said: "All the evidence suggests that better nurse staffing levels are associated with lower risks of death and adverse events.
"Throughout the last few years the emphasis has been on trusts to work out what patients in their area need and now when they have done that and have worked out what they need they have been told they don't have responsibility to run their hospitals in the way they consider best for patients. It's very hard to make sense of that."
Exclusive: Mackey tells trusts to curb clinical staff growth
1

2

Currently reading

Royal colleges 'shocked' by Mackey staffing levels comments

3

4

5