Six royal colleges and 15 medical associations warn of "long term damage" without negotiated deal
Private letter sent in support of a deal as Acas talks continue
Government warned against spreading resources "more thinly"
Both sides in the junior doctors' contract dispute have been urged to reach a negotiated settlement "before long term damage is done" to the NHS, by leaders from 21 medical royal colleges and associations.
The private and confidential letter, seen by HSJ, was sent to NHS Employers, the British Medical Association and the health secretary at 6pm last night.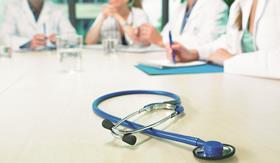 HSJ understands the intervention is designed to encourage the negotiations and serve as an attempt to support those seeking a deal on both sides.
The letter was signed by presidents and chairs from six royal colleges, including the Royal College of Physicians and Royal College of Surgeons, and 15 other medical societies and associations.
The letter tells the government that junior doctors are only one part of the wider transformation needed within the NHS, adding: "Existing resources must not be spread more thinly. If there is going to be a significant expansion of services this must be supported by a fair deal for trainees in both their professional and personal lives.
"We urge that efforts are redoubled to ensure that a fair settlement, with patient care at its core, is reached imminently.
"For the good of patients please find a negotiated solution before long term damage is done."
The letter comes amid continuing talks between NHS Employers and the British Medical Associations via the Advisory, Council and Arbitration Service, or Acas.
It urges both the BMA and NHS Employers to "reach a solution to prevent any further disruption to the delivery of care". It says: "It is widely accepted that the long term disruption of services is not in the best interests of anyone including patients, the NHS or the medical profession."
It says proposed strike action by doctors on 10 February demonstrates the strength of feeling in the profession, but adds: "This did not occur overnight but is the result of years of our juniors not feeling supported or valued, predating the current contract dispute. This is a message that must be listened to and acted upon urgently by the profession, the government and the NHS, or the NHS faces significant recruitment and retention challenges in the future."
The letter points to recent progress in the talks and cancellation of strike action scheduled for this week, saying it "demonstrates the progress that can be made when trust is built between both parties and emphasises the strength of meaningful negotiation in finding solutions".