Senior medics wrote to governors in January telling them it was time for Sir Leonard Fenwick to step down
Staff governor Phil Laws said the recurring message from consultants was it was time for Sir Leonard to go
Former Newcastle trust chief claims governors asked him to stay as chair
Sir Leonard was sacked for gross misconduct this month after being placed on extended leave in January
Senior clinicians told hospital governors they believed it was time for Sir Leonard Fenwick to stand down as chief executive of his trust, days after he was placed on "extended leave", HSJ can reveal.
Sir Leonard was sacked from Newcastle upon Tyne Hospitals Foundation Trust earlier this month for gross misconduct.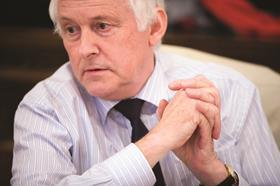 The former longest serving chief executive in the NHS was placed on extended leave from the trust in January, while an investigation into "serious issues" was carried out.
Staff governor and intensive care medicine and anaesthesia consultant Phil Laws told governors in an email that consultants felt it was time for Sir Leonard to stand down.
Dr Laws also told governors that Sir Leonard's interests were not necessarily the same as those of the trust.
The email, seen by HSJ, addressed the question of whether consultants supported non executive directors in placing Sir Leonard on extended leave. It also argued that it was "inconceivable" that directors had acted on a "whim", or were pursuing a personal vendetta.
It was sent to governors on 24 January – 12 days after Sir Leonard went on extended leave.
Dr Laws wrote: "The consultants as a whole understand that the actions of the non executive directors would not [have] been made on a whim or as a personal vendetta and have been supported with clear legal advice and advice from human resources.
"To have done otherwise is inconceivable… To challenge the action of the [non-executive directors] is asking the question, were they acting without evidence or not following due process to take the action they have taken, a situation which I and the consultants I have spoken to cannot imagine to be the case.
"I am concerned that we are risking confusing our roles as governors acting on behalf of the organisation in acting on behalf of Sir Leonard. One person is not the organisation.
"We should support the organisation we represent by supporting the ongoing process and not risk making things worse for the organisation or risk to Sir Leonard by attempting to undermine this process.
"As to the consultant support for Sir Leonard, I have a recurring message that it is time for him to step down and celebrate his contribution."
Sir Leonard has said publicly he was the victim of an "orchestrated witch hunt" and told HSJ he was "hung, drawn and quartered" by medical staff in his absence.
In an interview with HSJ, he said the "mood music changed" when he "cut across the board" to discipline consultants who used hospital premises to have sex and when he applied to become chair.
He added: "The whole place exploded and lots of consultants came to see me, so I cut across the board and set up a legal inquiry.
"I commissioned that and was condemned for it. I don't know why, but the mood music changed."
Sir Leonard said he was approached by governors to apply to take over as chair when incumbent Kingsley Smith was due to step down in September 2016.
He added: "Everything seemed to go sour when I was approached by senior, influential governors to consider applying for the role of chair. That dated back to 2015.
"They felt I would bring some measure of continuity and stability and that the organisation could continue to develop further with such challenging times envisioned for the NHS."
HSJ revealed in March that NHS Improvement had flagged up "very real concerns" about the prospect of Sir Leonard taking over as chair. No appointment was made and Mr Smith's term was extended.
HSJ understands Mr Smith will remain in post until a new chair is appointed, then it will be the duty of his replacement to appoint a new chief executive.
The trust said Sir Leonard was dismissed after a disciplinary panel found "allegations relating to inappropriate behaviour, use of resources and a range of governance issues were proven".
The trust also said it had referred several "concerns" to the NHS counter-fraud service NHS Protect.
While the trust did not expand on these matters, HSJ revealed Sir Leonard had a disciplinary hearing in May, amid allegations of bullying by a former senior employee.
The trust said it would be inappropriate to comment on the email or its contents, but has strenuously denied Sir Leonard's dismissal was linked to the sex ring.
A spokeswoman added: "The trust totally refutes any suggestion that the hearing, its outcome or Sir Leonard Fenwick's alleged views about it, played any part in the subsequent dismissal of Sir Leonard for gross misconduct.
"This is something Sir Leonard is well aware of having been provided with detailed evidence of the misconduct for which he was ultimately dismissed."